A Virtual Event With Matthew Kelly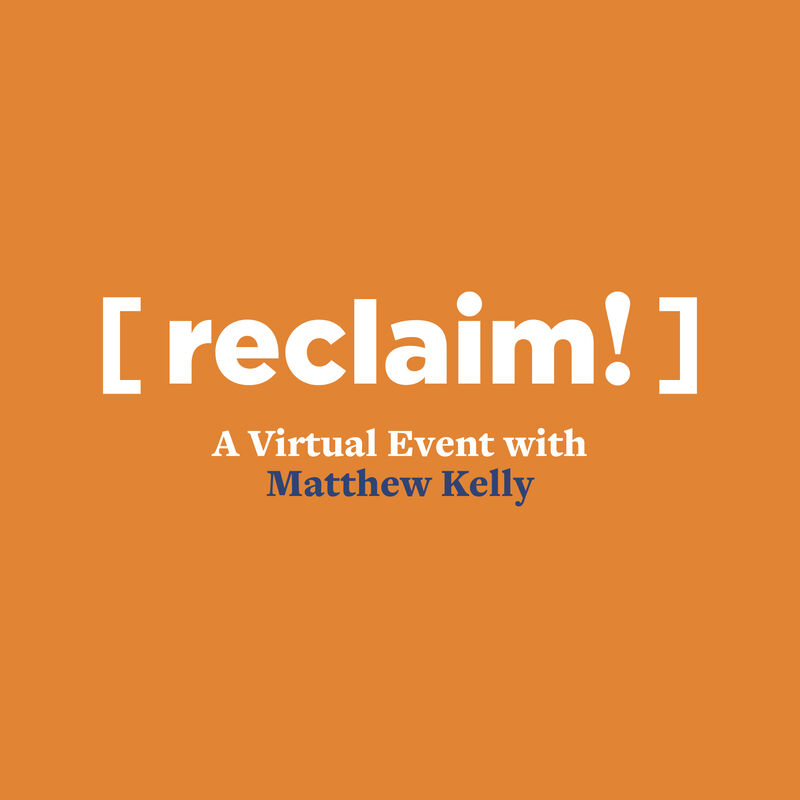 A Virtual Event With Matthew Kelly
Join bestselling author Matthew Kelly on November 9, 2021 at 8PM EST for his newest virtual event!

Each event ticket comes with an event packet containing Matthew Kelly's forthcoming book Reclaim, a journal, a pen, and a prayer process card - and we'll ship it directly to your door! You won't receive this packet right away - it will ship closer to event day.

You'll receive the link to view this event on November 9. Please note that we will send this link to the email address you use during checkout - so double check to make sure your email address is correct!

If you'd like to purchase tickets for multiple people we encourage you to purchase each ticket in a separate transaction to ensure we send event access and the event packet to the correct individual.

Want to attend reclaim! for free? Become an Ambassador today and receive your free access to this life-changing event!
Description
Isn't it time you reclaimed... your dreams, your voice, your time, your health, your personal finances, your relationships, your spirituality, your hope for the future, your soul, your heart, your childlike wonder, your needs, your peace of mind.

Last year, tens of thousands of people joined Matthew Kelly for a night of Amazing Possibilities! This year, we invite you to join him as we explore practical ways to reclaim the-best-version-of-yourself in the midst of a culture that is constantly trying to rob you of it. Move to clarity from confusion, to courage from fear, to hope from despair. It is time to reclaim! We're excited to announce a special virtual event — featuring a powerful new message from Matthew Kelly, inspiring music, a dynamic Dream Session, and Q&A with Matthew. We can't want to see you there!
Location
Virtual Event - View from Your Home!