Don't worry! We haven't forgotten the power a simple quote can have to focus your day. But when we become too comfortable, we stop growing. So we're shaking things up a bit. Over the next week, we will be sending you short clips from Matthew's exclusive Life Is Messy interview. These clips will inspire you and give you a taste of the full interview on this life-changing book and Matthew's choice to share it with the world.
Subscribe to Matthew's YouTube channel for more great content, including Live Q&A's with Matthew, special interviews with inspiring guests, and new videos every day to fill your life with encouragement and hope!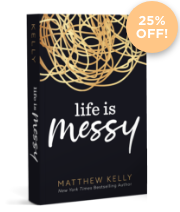 Right now, you can pre-order Life is Messy at 25% off! Don't miss your chance to get this life-changing book at a great price!