We hope this week's special reflections from Matthew Kelly's Life Is Messy interview are infusing your life with extra inspiration!
But there's more! These 7 short clips are just a small sample from the full 35-question interview. To watch the full interview, subscribe to Matthew Kelly's YouTube channel today!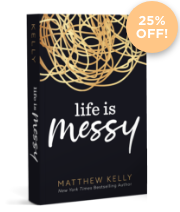 Right now, you can pre-order Life is Messy at 25% off! Don't miss your chance to get this life-changing book at a great price!