Connected for Good
The best kind of generosity is done
with
others, not
for
others. Learn how building relationship bridges between people for their benefit, not yours, is an act of generosity that multiplies.
Read More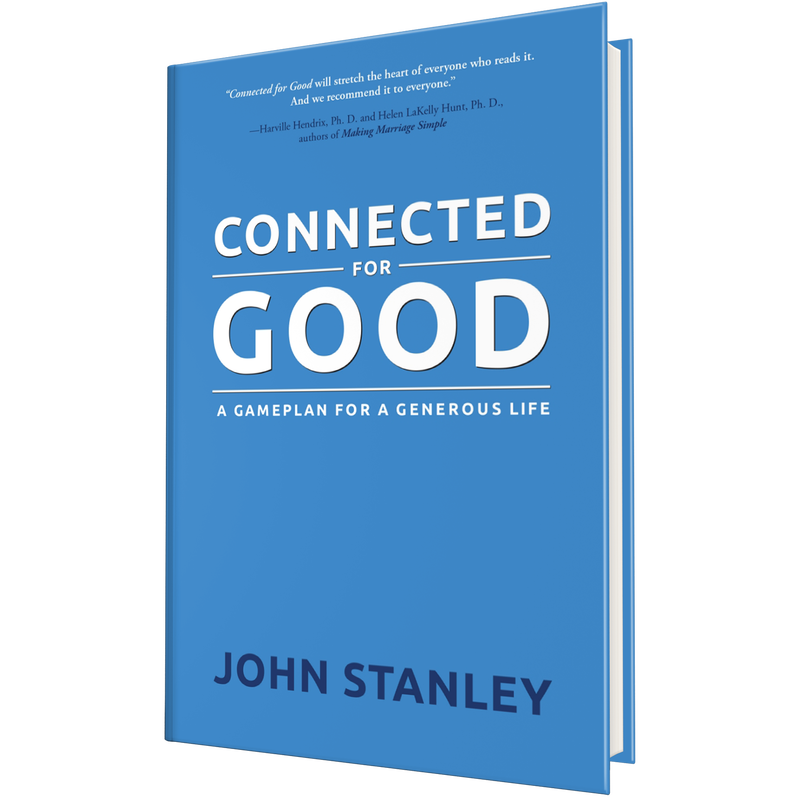 The best kind of generosity is done
with
others, not
for
others. Learn how building relationship bridges between people for their benefit, not yours, is an act of generosity that multiplies.
Read More
Overview
The best kind of generosity is done with others, not for others.
People of means and substance are growing weary of fundraising run by charity leaders who've adopted the tactics of professional salespeople. They're looking for ways to make change that's important to them, rather than just responding to an endless stream of appeals and campaigns. They may have been taught to donate and volunteer as part of their faith or family tradition, but they haven't learned how to do so in a way that is effective and meaningful.
In Connected for Good, John Stanley explores the Generosity Gaps—places where men and women hold back their giving.
Some say, "It's not the right time." They're busy with work and family, and they're waiting for a better moment when giving will be easier.
Others say, "I don't have enough." They're worried about losing ground on their financial standing and providing for future generations.
Still others say, "I might be making a difference, but I'm not seeing lasting change." They doubt that their giving and volunteering is transforming people's lives.
Stanley believes that we can act on our generous impulses to the full if we start from the heart's desire for connection. Giving that involves personal relationship and engagement is then more satisfying and sustainable.
Going beyond the traditional time, talent, and treasure, Stanley encourages giving from the full range of our renewable currencies:
Giving in our relationships means practicing amazingly ordinary generosity with those close to us. It also means building bridges between people in our network for their benefit, not ours. Friends and family are a tremendous source of richness.
Giving our strengths begins with the gift of presence and attention. We can then make sure that the charitable work we do draws on our skills and talents, making it more powerful for the organizations we serve and more enjoyable for ourselves.
Giving our resources falls into proper perspective when we give relationships and strengths first. Our feet follow our money, and we also find creative ways to use our possessions, space, time, and assets.
Finally, Stanley explores how to make use of the multiplier effect to greatly increase impact. You give something away and receive as much or more back in return. You give but your supply isn't diminished. Building relationships, expanding strengths, and leveraging resources contributes to the multiplier effect, as does giving upstream to prevent problems at their source.
The step-by-step Generosity Gameplan® process leads you to craft your own strategic giving plan:
Explore your heart and history: reflect on your generous life so far
Claim your Generosity Gaps: know where and why you're holding back
Count your currencies: take an inventory of your relationships, strengths, and resources
React to the headlines: gather the stories that provoke your passions
Develop your gameplan: create a personal mission that focuses your currencies on your heart's desire
Get in the game: take the first steps to put your strategy into action
Reflect on your results: take stock of what you've done so you can celebrate and adjust where needed
With a clear Generosity Gameplan in place, you can feel good about saying no and make your yes that much more effective. You can take your already-generous life to a new level of impact and purpose. Looking beyond the checkbook and focusing on people and causes you care deeply about creates giving experiences that transform you and your world.
ISBN:
978-1-937509-42-2