The Impact Speaks for Itself
"Holy Moments might be a new book, but it's not a new concept—it's what Jesus taught and how the saints lived. I've handed out many copies of Holy Moments and everyone says the same thing after reading it: 'It's making a difference in my life.'" —Kevin

"Holy Moments is a profoundly simple and astonishingly practical idea. It only takes two minutes to share—even the children in our parish have picked it up. They get so excited to tell me about their Holy Moments!" —Monica

"Holy Moments has inspired so many good deeds since we handed it out last Christmas. If you want to see miracles this Easter, teach your parish how to be available to God." —John
Order Holy Moments for your parish this Easter—for just $1 a copy! Make sure to order by March 29th to get your books in time!
orders of 125 or more
Your parish has so much to offer.
Nothing awakens souls to their holy potential quite like Holy Moments. Share this simple idea and watch as your entire parish comes alive, one Holy Moment at a time!
Order Holy Moments for your parish this Easter—for just $1 a copy! Make sure to order by March 29th to get your books in time!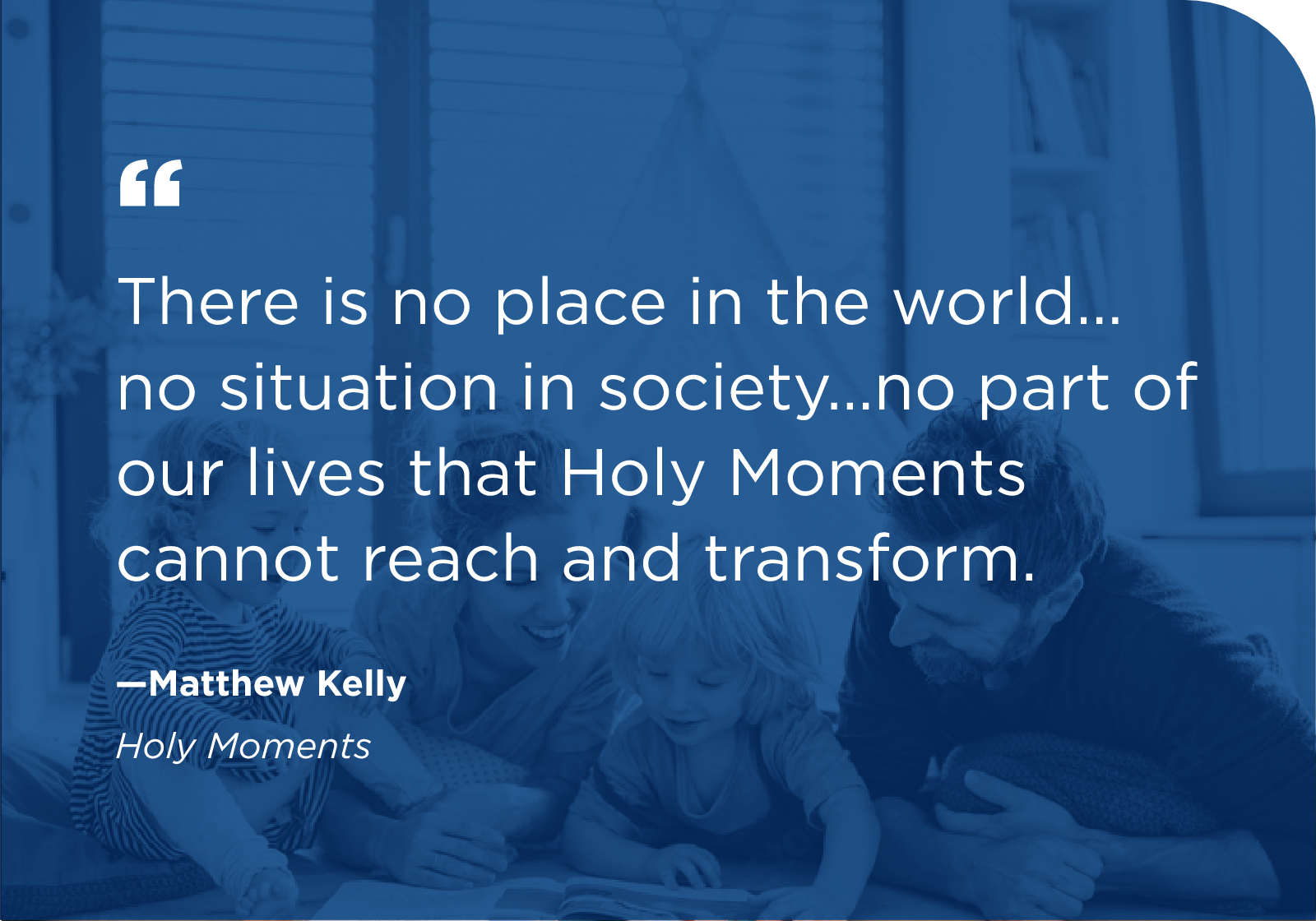 Invite Your Parish to Collaborate with the Saints
Unlock the Wisdom of the Saints
The saints' wisdom shows us how to collaborate with God and realize the greatness within us. Invite everyone in your parish to walk and talk with the greatest men and women who have ever lived.
Let us see the saints for who they really are: Not unrealistic examples of holiness, but our greatest companions and friends in our own struggle to find joy and make sense of life. And by discovering their beautiful humanity, we will discover our own.
The Wisdom of the Saints
Why Hand Out Books at Your Parish This Easter?
Some ideas are so powerful that simply becoming aware of them can change everything. For the parishes that handed out Holy Moments at Christmas, the difference in their communities is tangible. And here's why:

It's Central to the Faith.
Easter Mass is one of the busiest moments of the year and a great opportunity to reach those who normally don't come to your parish. Don't let them leave empty-handed! Give them the kind of book that will show them how to live authentic Catholic lives and collaborate with God.

It's Easy.
Evangelization and faith formation doesn't get any easier than this. In fact, giving out one of our game-changing books this Easter could be your largest and most effective evangelization effort this year—and all it takes is the click of a button!

It Works.
Over the past 15 years, thousands of parishes have taken advantage of this fantastic opportunity and together we've handed out over 40 million life-changing books. Every year, without fail, parishes are infused with new excitement and focus. And every year, the Holy Spirit uses the right book at the right time to transform countless lives.
*Only featured titles are available for $1 on orders of 125 or more. Order by March 29th to guarantee your books by Easter. We recommend that you order enough books for 75% of registered families. English and Spanish are available. Prices are for US orders only. Canada pricing is $1 per book with an additional $2 for shipping.
Have Questions?
For more information, please call our Mission Team or send us a message.
Or share using this link:
Copied to clipboard!