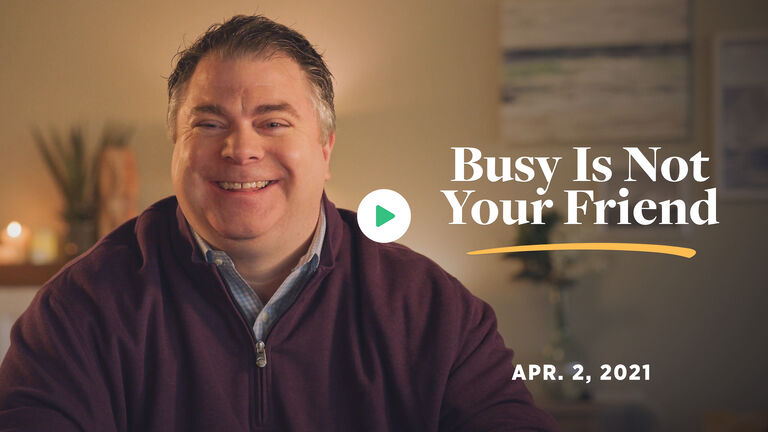 View Video Transcript:
English
|
Spanish
Transcript
April 2, 2021
Busy Is Not Your Friend
When we began our journey together, I put before you a question: Is your life working? It's a question I use often to explore my life in general to explore different aspects, different areas of my life. Usually when my life isn't working, there's always one culprit that is involved in some way at some level, and that's busy. I've committed myself to too many things, I'm too busy. And some people say, "Well, is all busy bad or some busy good?" There is, I think, a good type of busy. I think you can come home at the end of the day exhausted knowing that you've done really good important things, and that exhaustion can be very fulfilling. It can't be very fulfilling if it happens every day for months and years. Even that good busy becomes bad if there's too much of it.
But the bad busy is when we come home exhausted at the end of the day, and we're not quite sure what we've accomplished. We know we've been busy, we know we've been doing a lot of things, but we're not sure what we've done. And we are sure that what we spend our day on are not the things that add the most value to our lives and to our world, are not the things that engage our souls, that stir our hearts, that inspire our mind, and do the same for other people. It's those experiences of busy that can be very disheartening because they overwhelm us. They discourage us. They make us feel tired and burnt out and worn out and anxious and stressed. But I think, most of all, the problem with busy is that busy makes us feel inadequate. Busy makes us feel like we're not enough. And that's a horrible feeling. It's certainly a feeling that God doesn't want us to have, doesn't want us to have the feeling you are not enough. He doesn't want us to have the feeling you're inadequate. No loving parent wants their children to feel like they're not enough, like they're inadequate. And in fact, God's message to us is completely the opposite. Not only are we enough, but more than enough, extraordinary image of God, one-of-a kind human beings, with all sorts of incredible experiences and opportunities within us and before us. And that's what God wants us to explore with Him.
That's why the spiritual life is so important because it challenges us or encourages us or forces us to step back from who we are and where we are and what we're doing and take another look at who we are and where we are and what we're doing. And when we do that, when we do step back, very often we realize, wow, my life is not working. This is not the life I want to live. I want my relationships to be different. I want my career to be different. I want these other aspects of my life to change. I want to grow. I want to evolve. I want to become more of the person God created me to be. I want to become a-better-version-of-myself every single day even if I just become a-better-version-of-myself by tiny, little amount each day.
Let's slow down a little. Let's do a little. Let's make some room for God. Let's make some room for your most authentic self. And let's make some room for the incredible plans that God has for you and for the rest of your life.
Transcript (Español)
2 de abril de 2021
Siempre ocupado no es amigo tuyo
Cuando comenzamos este recorrido juntos, te planteé una pregunta: ¿Marcha bien tu vida? Es una pregunta que uso a menudo para explorar mi vida como un todo, así como aspectos específicos, determinadas áreas de mi vida. Por lo general, cuando mi vida no marcha bien, siempre hay un culpable que está involucrado de alguna manera, en algún grado, y se llama ocupado. Me he comprometido con demasiadas cosas, estoy demasiado ocupado. Y algunas personas dicen: –Bueno, ¿ocupado es del todo malo o algo ocupado es bueno? Creo que hay un tipo de ocupación que es buena. Creo que puedes llegar a casa al final del día agotado, sabiendo que has hecho cosas realmente importantes, y ese agotamiento puede ser muy satisfactorio, pero deja de serlo si ocurre todos los días durante meses y años. Incluso esa buena ocupación se torna mala si es excesiva.
Pero la mala ocupación es cuando llegamos a casa agotados al final del día y no estamos seguros de lo que hemos conseguido. Sabemos que hemos estado ocupados, sabemos que hemos estado haciendo muchas cosas, pero no estamos seguros de lo que hemos logrado. Y estamos seguros de que aquello en lo que gastamos el día no es lo que añade más valor a nuestra vida y a nuestro mundo, no son las cosas que nos conectan con nuestra alma, que mueven nuestro corazón, que inspiran nuestra mente, y que impactan de la misma manera a otras personas. Esa experiencia de sentirse ocupado puede ser muy desalentadora porque nos abruma, nos desanima. Nos hace sentir cansados, fundidos, agotados, ansiosos, estresados… Pero creo que, por encima de todo, el problema de estar siempre ocupados es que nos hace sentirnos inadecuados. Nos hace sentir que somos insuficientes, y ese es un sentimiento horrible. Es ciertamente un sentimiento que Dios no quiere que tengamos, no quiere que nos sintamos insuficientes ni inadecuados. Ningún padre amoroso quiere que sus hijos se sientan así. Y, de hecho, el mensaje de Dios para nosotros es todo lo contrario. No solo somos suficientes, sino más que suficientes, somos imagen extraordinaria de Dios, seres humanos únicos e irrepetibles, con todo tipo de experiencias y oportunidades maravillosas dentro de nosotros y ante nosotros. Y eso es lo que Dios quiere que exploremos con Él.
Por eso la vida espiritual es tan importante, porque nos desafía, nos anima o nos obliga a apartarnos de lo que somos, de donde estamos y de lo que hacemos para verlo desde otra perspectiva. Y cuando lo hacemos, cuando damos un paso atrás, muy a menudo nos asombramos de ver que nuestra vida no marcha bien. Esta no es la vida que quiero vivir. Quiero que mis relaciones sean diferentes. Quiero que mi carrera sea distinta. Quiero que estos otros aspectos de mi vida cambien. Quiero crecer. Quiero evolucionar. Quiero convertirme en la persona que Dios me creó para ser. Quiero convertirme cada día en una mejor versión de mí mismo, incluso si solo mejoro en una medida ínfima cada día.
Vamos a desacelerar un poco. Abarquemos poco. Hagamos espacio para Dios. Hagamos espacio para tu auténtico ser. Hagamos espacio para los asombrosos planes que Dios tiene para ti y para el resto de tu vida.