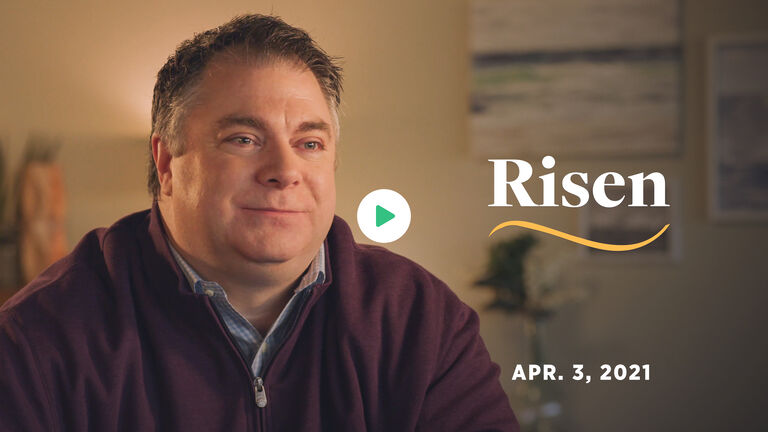 Have a friend who could use some help getting started with their prayer life? I Heard God Laugh could make a great gift!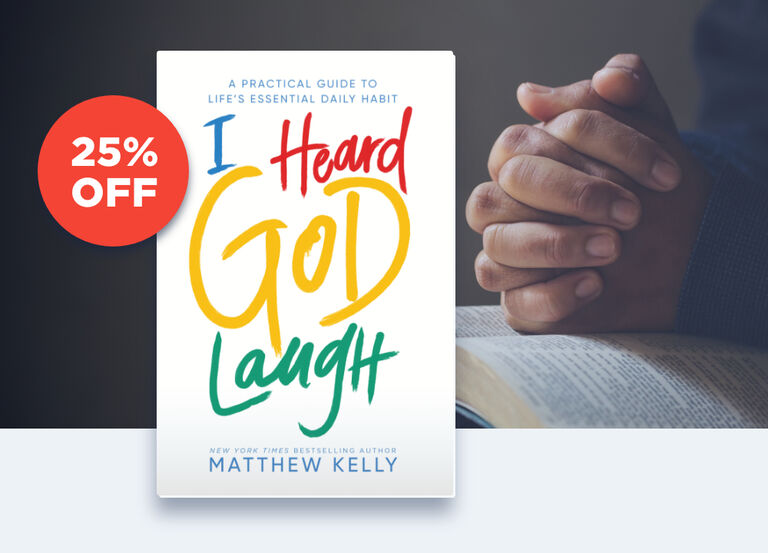 View Video Transcript:
English
|
Spanish
Transcript
April 4, 2021
Risen
Tomorrow is Easter Sunday. It is the day. It is the moment in the history of humanity that has had more impact on history, more impact on humanity, more impact on individuals than any other day. We experience it each year, and so it's a challenge but an opportunity to learn to look at it in new ways.
I increasingly enjoy looking at the Scriptures through the humanity of the disciples, through the humanity of the people that show up in the Scriptures. God has a way of choosing the most unlikely people and taking them sort of from the periphery of society and placing them right in the center of the Gospel stories and making them rock stars. If you think about all the rock stars in the Gospels, they're all these sort of fringe, peripheral people that probably you and I would walk past on the street. And I think that there's a message in that for each and every single one of us.
On Sunday morning—and wow, it must have been a Sunday morning—it's easy to think about the resurrection. It's easy to think about Jesus conquering death, coming back to life. But I think it's important to put ourselves in the frame of mind of the first Christians, to put ourselves in the frame of mind of the disciples. The disciples are scared to death, okay? They were literally scared for their lives at this point. They were in hiding. They're in hiding. They're afraid. They're scared. And then Jesus, in a blaze of glory, rises from the dead. But even that doesn't fully exorcise them of their fear. They still continue to hide. And then of course comes Pentecost. We see a radical transformation, when the Spirit comes into their lives.
What are you afraid of this Easter? The disciples were afraid. It's okay to be afraid. It's very human to be afraid. What are you afraid of this Easter? What are you hiding from this Easter? Maybe you're hiding from a problem in your life. Maybe you're pretending not to know something that you know is a problem. Maybe you're avoiding a certain person or a certain topic. What are you hiding from in your life? You see, when we go into the humanity of the disciples and their fear and their hiding, we discover that we're all in this together. Yes, it's Easter again. And yes, we're still afraid. And yes, we still have doubts. And yes, we're still hiding. But we still have hopes and dreams. We still have hopes and dreams for ourselves, for our families, for our parishes, for our community, for our nation. We have hopes and dreams. Because it's human to look to the future, to imagine something bigger and better, something more beautiful, something more life-giving; and then to come back into the present and work to bring about that richly-imagined future. And that's what God is inviting us to, this Easter Sunday—is to explore, is to imagine what is possible. To open our hearts, our minds, our souls to His ways, to His plans. So that together, we can find a new path forward.
I want to wish you and all those you love, a wonderful Easter, a blessed Easter. I hope this journey toward Easter has been a powerful experience for you. I'll be back on Monday with a short message and a very exciting announcement. So I hope you'll join us Monday for our last video. In the meantime, God bless you, and I hope you have a happy and holy Easter.
Transcript (Español)
4 de abril de 2021
Resucitado
Mañana es Domingo de Pascua. Es el día. En todos los tiempos, no ha habido otro momento que haya tenido mayor impacto en el curso de la historia, en la humanidad y en cada persona que este día. Lo experimentamos año tras año y así como es un reto también es una oportunidad para aprender a mirarlo de nuevas maneras.
Cada vez disfruto más mirando las Escrituras a través de la humanidad de los discípulos, a través de la humanidad de la gente que aparece en las Escrituras. Dios tiene una forma de escoger a la gente menos esperada, desde lo que podríamos considerar la periferia de la sociedad, y ubicarlos justo en el centro de las historias del Evangelio convirtiéndolos en estrellas de rock. Si piensas en todas las estrellas de rock en los Evangelios, todos son una especie de marginados, gente de la periferia que probablemente tú y yo ignoraríamos al pasar por la calle. Y creo que eso encierra un mensaje para todos y cada uno de nosotros.
El domingo por la mañana, y vaya, debe haber sido un domingo por la mañana, es fácil pensar en la resurrección. Es fácil pensar en Jesús conquistando la muerte, regresando a la vida. Pero creo que es importante ponernos en el estado de ánimo de los primeros cristianos, ponernos en el estado de ánimo de los discípulos. Los discípulos tienen miedo de morir, ¿ves? En ese momento, ellos literalmente temían por sus vidas. Andaban escondiéndose, ocultándose. Tenían miedo. Estaban asustados. Y luego Jesús, en un resplandor glorioso resucita de la muerte. Pero ni siquiera eso hace que su miedo se disipe. Continuaban todavía escondiéndose. Y luego por supuesto llega Pentecostés. Vemos una transformación radical cuando el Espíritu llega a sus vidas.
¿Qué temores tienes en esta Pascua? Los discípulos tenían miedo. Está bien tener miedo. Es muy humano tener temores. ¿Qué temores tienes en esta Pascua? ¿De qué te estas escondiendo esta Pascua? Quizá, estés ocultándote de un problema en tu vida. Quizá, estés pretendiendo no reconocer algo que en el fondo sabes que es un problema. Quizá, estés evitando a determinada persona o determinado tópico. ¿De qué te estás escondiendo en tu vida? Verás, cuando nos adentramos en la humanidad de los discípulos y su miedo y su ocultación descubrimos que todos estamos juntos en esto. Sí, es Pascua de nuevo. Y sí, todavía tenemos miedo. Sí todavía tenemos dudas. Sí, todavía nos estamos escondiendo. Pero todavía tenemos esperanzas y sueños. Todavía tenemos esperanzas y sueños para nuestra propia vida, para nuestras familias, para nuestras parroquias, para nuestra comunidad, para nuestro país. Tenemos esperanzas y sueños. Porque es humano mirar al futuro, imaginar algo más grande y mejor, algo más bello, algo más vivificante y luego regresar al presente y trabajar para lograr ese abundante futuro que imaginamos. Y a eso es a lo que Dios nos invita este Domingo de Pascua, a explorar, a imaginar lo posible; a abrir nuestros corazones, nuestras mentes, nuestras almas a sus caminos, a sus planes, para que juntos podamos encontrar un nuevo camino hacia adelante.
Quiero desearles a ustedes y a todos aquellos a quienes aman, una Pascua maravillosa, una Pascua llena de bendiciones. Espero que este recorrido hacia la Pascua haya sido para ustedes una poderosa experiencia. Estaré de regreso el lunes con un mensaje corto y un anuncio muy emocionante. Así que espero que nos acompañen el lunes para nuestro último vídeo. Mientras tanto, tengan una feliz y santa Pascua. Que Dios los bendiga.