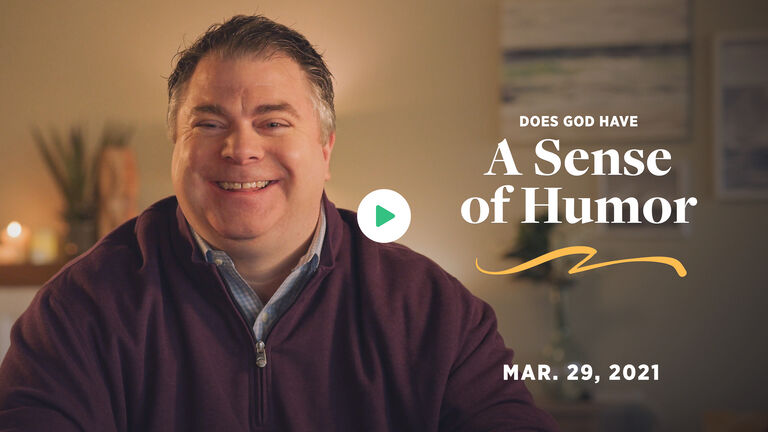 Have you ever thought about God's sense of humor? Give it some thought with Matthew Kelly's I Heard God Laugh.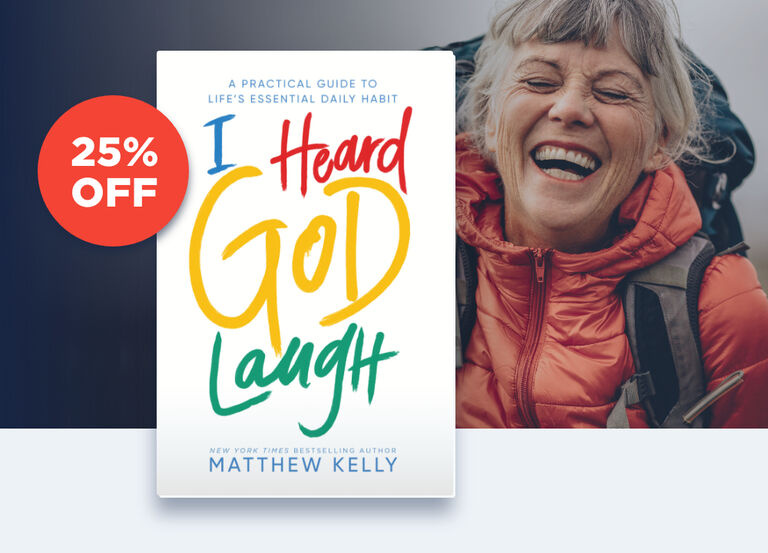 View Video Transcript:
English
|
Spanish
Transcript
March 29, 2021
Does God Have a Sense of Humor?
Can you imagine life without laughter? Can you imagine a world without humor? I think that even our most accurate imaginings cannot even begin to understand what would be loss of life if human beings didn't have the capacity to laugh. Didn't have the capacity for humor. Many of the most memorable moments our lives are moments of humor. Many of the most difficult moments of our lives, we get through with humor. Many of the most memorable times we have with family and friends, much of the bond we build with family and friends, is built around humor.
Humor plays a critical role in the life of human beings in this world. Where did it come from? Where did this quintessential aspect of the human person come from? Well, it's just one small glimpse into the genius of God. The genius of God is everywhere. It surrounds us at all times. It's present in so many ways in our lives. But it is especially present in laughter and in humor.
Our God is a God of purpose. He does things on purpose, with purpose, for purpose. And so we are led to believe that the fact that we can laugh, the fact that humor plays such an essential role in our lives and in our health, it wasn't a coincidence. It wasn't a mistake. It was very much part of the genius of God in His creation of the human being. More recently, there's been a lot of research into the effects of humor the effects of laughter on a human person. A lot of the research is surrounded sort of the medical science:
"Modern medicine has discovered that laughter strengthens your immune system, improves mood, and diminishes pain. Laughter is a powerful form of stress relief. It burns calories, eases anxiety, reduces stress and is a natural antidepressant. A good laugh relaxes the body, eases tension, and leaves your muscles relaxed for up to forty-five minutes. Laughter stimulates your heart and increases the number of endorphins released by your brain, which creates an overall sense of well-being."
It took some really smart scientists to discover all this, but God is the genius who is alive and well in our laughter. God is the genius who gave us laughter.
"Humor is essential to the human being. Many of the most memorable and meaningful moments in our life are humorous. But this raises the question, where is humor in our experience of God, religion, and spirituality?"
Does God have a sense of humor? Only by going deep into the spiritual life, only by connecting with God on a daily basis, developing a deep well of spirituality do we come to discover that the God who created us with a wonderful sense of humor has a wonderful sense of humor himself. Why we have left humor out of spirituality, out of religion for so many thousands of years is a mystery? If you read the Gospels, there's little evidence, maybe no evidence in the Gospels to suggest that Jesus has a sense of humor, but I have to believe that he had a phenomenal sense of humor. I would have loved to be walking down those dusty roads with him and the disciples. I'm sure there whatever some epic moments of hilarity, great moments of humor and that this bonded them together as one of the most unique groups of people in history and certainly, the most unique team in the history of humanity.
Transcript (Español)
29 de marzo de 2021
¿Tiene Dios sentido del humor?
¿Puedes imaginar la vida sin risas? ¿Puedes imaginar un mundo sin humor? Creo que ni siquiera nuestras imaginaciones más vívidas pueden empezar a comprender lo que se perdería de la vida si los seres humanos no tuviésemos la capacidad de reír. Si no tuviésemos sentido del humor. Muchos de los momentos más importantes de nuestras vidas son momentos de humor. Muchos de los momentos más difíciles de nuestra vida los superamos con humor. Muchos de los momentos más memorables que pasamos en familia y con amigos, se dan gracias al vínculo que tenemos con ellos, el cual en parte se crea en torno al humor.
En este mundo, el humor desempeña un papel fundamental en la vida de los seres humanos. ¿De dónde proviene? ¿De dónde surgió este aspecto inherente al ser humano? Bueno, es solamente un pequeño atisbo de la genialidad de Dios. La genialidad de Dios está en todas partes. Nos rodea en todo momento. Está presente de muchas maneras en nuestras vidas, pero está especialmente presente en la risa y en el humor.
Nuestro Dios es un Dios con propósito. Hace las cosas a propósito, con un propósito y por un propósito. Y eso nos lleva a creer en que el hecho de que podamos reír, el hecho de que el humor desempeñe un papel tan esencial en nuestras vidas y en nuestra salud no es una coincidencia. No fue un error. Fue en gran medida parte del genio de Dios al crear el ser humano. Recientemente se han realizado gran cantidad de estudios sobre los efectos del humor, sobre los efectos de la risa en los seres humanos. Muchas de las investigaciones competen a las ciencias médicas:
«La medicina moderna ha descubierto que la risa fortalece tu sistema inmunitario, mejora el ánimo y disminuye el dolor. La risa es una poderosa forma de alivio del estrés. Quema calorías, alivia la ansiedad, reduce el estrés y es un antidepresivo natural. Una buena carcajada relaja el cuerpo, alivia la tensión y mantiene los músculos relajados hasta cuarenta y cinco minutos. La risa estimula el corazón y aumenta el número de endorfinas que libera el cerebro, lo que crea una sensación general de bienestar»
Hicieron falta científicos muy inteligentes para descubrir todo esto, pero Dios es el genio que está vivo habitando en nuestra risa. Dios es el genio que nos dio la risa.
«El humor es esencial para el ser humano. Muchos de los momentos más importantes y significativos de nuestra vida son graciosos. Y esto, plantea la pregunta: ¿dónde está el humor en nuestra experiencia de Dios, de la religión y de la espiritualidad?
¿Tiene Dios sentido del humor? Solo profundizando en la vida espiritual, solo relacionándonos con Dios cotidianamente, desarrollamos un pozo profundo de espiritualidad donde llegamos a descubrir que el Dios que nos creó con un maravilloso sentido del humor, tiene Él mismo un maravilloso sentido del humor. El porqué hemos dejado el humor fuera de la espiritualidad y de la religión por miles de años es un misterio. Si lees los Evangelios, hay muy poca evidencia, quizás ninguna, de que Jesús fuera divertido, pero tengo que creer que tenía un fenomenal sentido del humor. Me hubiera fascinado caminar con Él y sus discípulos por esos caminos polvorientos. Estoy seguro que hubo épicos momentos de hilaridad, de mucha risa, grandiosos momentos de humor que los unieron como uno de los grupos más singulares en la historia, definitivamente el más especial en la historia de la humanidad.