Living in the present moment is the first step to quieting your mind. Find peace today with The Mindful Catholic by Dr. Gregory Bottaro.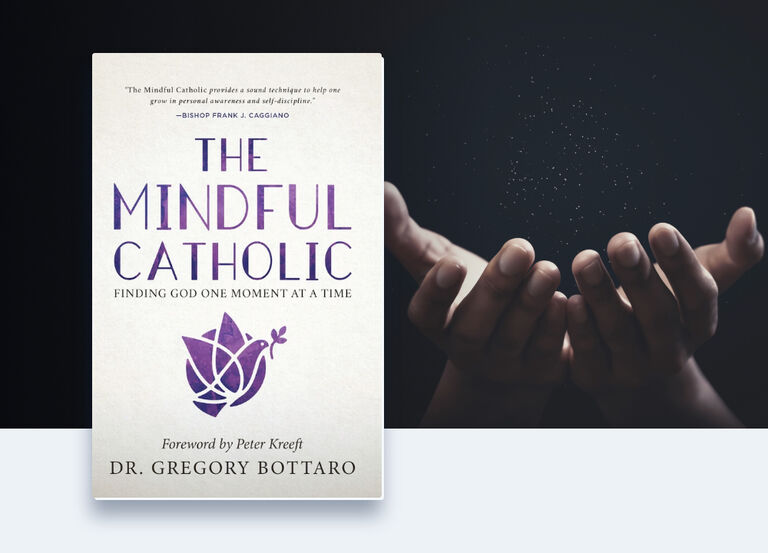 View Video Transcript:
English
|
Spanish
Transcript
March 27, 2021
Highs and Lows
This Sunday is Palm Sunday. And it begins this week of epic events in the life of Jesus, and in the lives of us all, and the life of the church, and in the life of humanity: begins Jesus coming into Jerusalem being cheered by people, being essentially hailed as a king, as a great one, as the Messiah. And, of course, what we see is things turn in the other direction very, very quickly.
Last year, as I was reflecting on these eight days, from Palm Sunday to Easter Sunday, and thinking about all the things that happened and all the emotions that get experienced, it occurred to me that almost anything that happens in our lives can be placed in the context of these eight days. There's almost nothing that happens in your life that doesn't have a parallel with something that happens in the life of Jesus over these eight days between Palm Sunday and Easter Sunday.
In this Sunday's reading, we experience these highs and these lows. Reading begins with Jesus' silence. He's being questioned: Are you the Messiah? Are you the Son of God? And he just stays silent because he realizes these people aren't interested in the truth. They're not interested in what He has to say. They're not going to listen to him. And so we read, as we so often read in the Scriptures, "Jesus remains silent." These are very, very powerful words: Jesus remains silent. Some men's silence, of course, is more powerful than other men's words, and this man's silence was more powerful than everybody else's words. Sometimes silence is the best response to a situation and sometimes it is by being silent that we're able to send our most powerful message in certain situations.
We have to be looking for ever fresh and ever new ways to look at these readings and allow them to penetrate the hardness of our hearts because we do develop a shell of hardness around our hearts to protect us from the cruelty, the harshness, the evil that is in this world. But from time-to-time, we need to allow God to penetrate that hardness so that he can renew us and refresh us in very powerful ways.
Transcript (Español)
27 de marzo de 2021
Altibajos
Este domingo es Domingo de Ramos. Y comienza esta semana de eventos épicos en la vida de Jesús, en la vida de todos nosotros, de la Iglesia y de la humanidad: comienza con la llegada de Jesús a Jerusalén, aclamado por la gente, proclamado como un rey, uno grandioso, como el Mesías. Y por supuesto, lo que vemos es que las cosas se tornan en la otra dirección muy, muy rápidamente.
El año pasado, mientras reflexionaba sobre estos ocho días, desde el Domingo de Ramos hasta el Domingo de Pascua y pensaba acerca de todo lo que sucedió y todas las emociones que se experimentaron, se me ocurrió que casi todo lo que pasa en nuestra vida puede situarse en el contexto de estos ocho días. Casi no hay nada que ocurra en tu vida que no tenga un paralelismo con algo que pasó en la vida de Jesús en el transcurso de estos ocho días, entre el Domingo de Ramos y el Domingo de Pascua.
En esta lectura del domingo experimentamos estos altibajos. La lectura nos lleva al silencio de Jesús. Jesús ha sido cuestionado: ¿Eres tú el Mesías, el Hijo de Dios Bendito? Y ahora Él permanece en silencio porque sabe que esa gente no está interesada en la verdad. No están interesados en lo que Él tenga que decir. No van a escucharlo. Así que como frecuentemente leemos en las Escrituras, Jesús «guardaba silencio». Son palabras muy, muy poderosas: Jesús guardaba silencio. Claro está, el silencio de algunos hombres es más poderoso que las palabras de otros, y el silencio de este hombre fue más poderoso que las palabras de todos los demás. Algunas veces el silencio es la mejor respuesta ante una situación y algunas veces es mediante el silencio que podemos enviar el mensaje más poderoso en determinadas situaciones.
Tenemos que buscar formas siempre frescas y nuevas de mirar estas lecturas y permitir que penetren la dureza de nuestros corazones, porque desarrollamos una dura coraza alrededor de nuestro corazón para protegernos de la crueldad, de la severidad, de la maldad que hay en este mundo. Pero, de vez en cuando, necesitamos permitir que Dios penetre en esa dureza para que pueda renovarnos y darnos nuevos bríos de maneras muy poderosas.