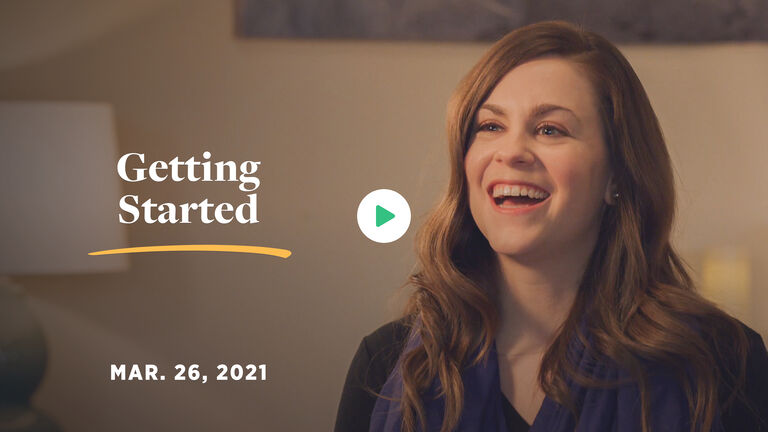 Walking through life with God by your side is so much better than walking without Him. Stay close with a great read from Matthew Kelly.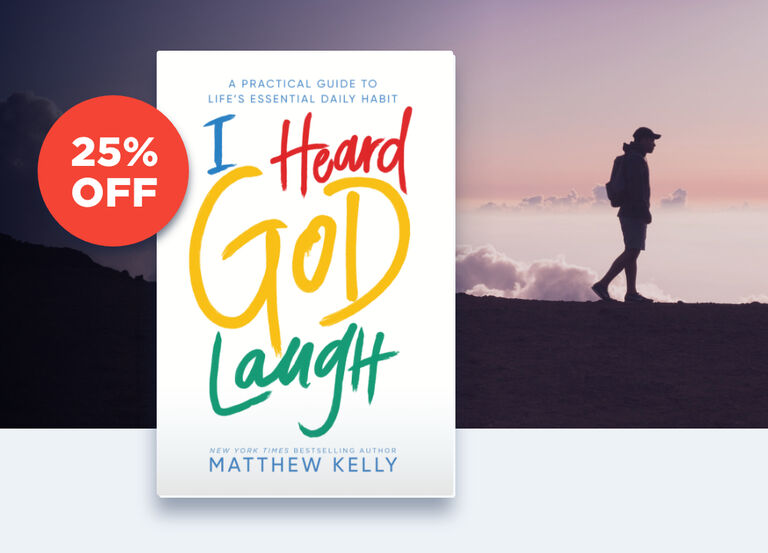 View Video Transcript:
English
|
Spanish
Transcript
March 26, 2021
Getting Started
My advice to my younger self would be to not underestimate the power of just getting started. I've especially found this to be true as a new mom and looking to start a daily routine of prayer with my two-year-old son. I put a lot of pressure on myself to teach him about Jesus and to teach him about the faith. But I've learned that the best way to do this is just to pray together. So we've established this really special time together where we pray together every night as part of his bedtime routine. And when I first got started, it was really just me, because he was a very young infant at this time. So it was just me saying this very simple prayer: "Mommy wants Benny to be happy and healthy and safe."
Shortly after that, one night, I was inspired just to start talking to him about the saints that were special to me. And I started praying this litany of saints to watch over him. And then that was the prayer for a while. A few months ago, we added in the guardian angel prayer. And for a while I would just say the prayer. But now that he's getting older, I paused to see if he had picked up on anything that I had been praying for these past months together, and he had! And it was just really special to hear these words coming from him. Then I learned that he also had memorized the guardian angel prayer, and he can now say his guardian angel prayer with help. So it's just been really special to start out that prayer time, just me as his mom praying over him, and now he's participating in that prayer with me. And I'm so excited to see how that time evolves together over the years as he gets older.
So my advice to my younger self would be just get started. Keep it simple. Keep showing up even if you're just sitting there like an infant baby. Just get started. I think you'll be surprised by what unfolds.
Transcript (Español)
26 de marzo de 2021
Dando el primer paso
El consejo que me daría de joven sería el no subestimar el poder de dar el primer paso. En especial, encontré esto cierto como madre primeriza, buscando empezar una nueva rutina de oración con mi hijo de dos años. Me presioné mucho para enseñarle acerca de Jesús y de la fe. Pero aprendí que la mejor manera de hacerlo es sencillamente rezar juntos. Así que hemos establecido este tiempo realmente especial en donde rezamos juntos cada noche como parte de la rutina de ir a acostarse. Y cuando inicié, era realmente yo sola, porque él era muy chico en ese momento. Así que era yo la que decía esta sencilla oración: –Mami quiere que Benny sea feliz y esté saludable y seguro.
Al poco tiempo, una noche, simplemente me sentí inspirada a empezar a hablarle sobre los santos que eran especiales para mí. Y empecé a rezar esta letanía para que los santos le protegiesen. Y entonces, esa fue la oración por un tiempo. Pocos meses atrás, agregamos la oración del ángel de la guarda. Y por un tiempo yo decía la oración sola. Pero ahora que él se está un poquito más grande, me detuve a observar si había captado algo de lo que habíamos estado rezando juntos durante los últimos meses, ¡y lo hizo! Y fue realmente fenomenal escuchar esas palabras viniendo de él. Luego me di cuenta de que había memorizado la oración del ángel de la guarda y ahora puede decirla, con ayuda. Así que ha sido verdaderamente especial el haber comenzado este tiempo de oración rezando como madre por él, y ahora verlo participar conmigo. Estoy muy emocionada de ver cómo todo se va desarrollando con los años mientras va creciendo.
Así que el consejo que me daría de joven sería sencillamente empieza. No lo compliques, mantén la simplicidad. Síguete haciendo presente incluso si estás solamente sentado allí como un pequeño bebé. Sencillamente da el primer paso. Creo que te sorprenderá lo que sucederá.