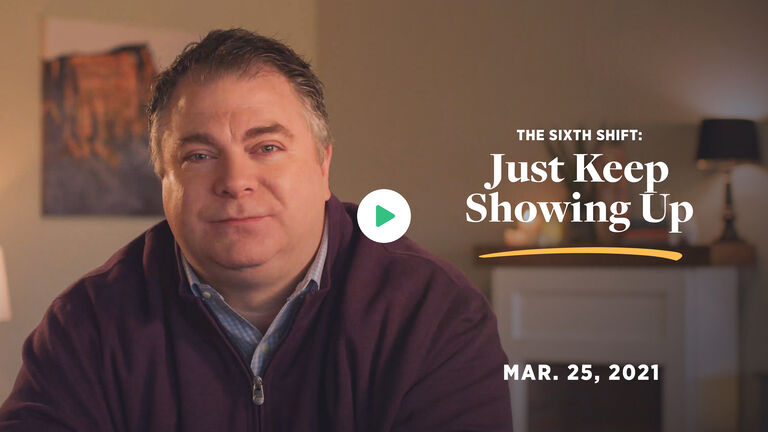 Walk Humbly with Your God
To face challenges well, it's important to have a strong foundation of prayer and virtue. Walk Humbly With Your God is a great resource for building that foundation!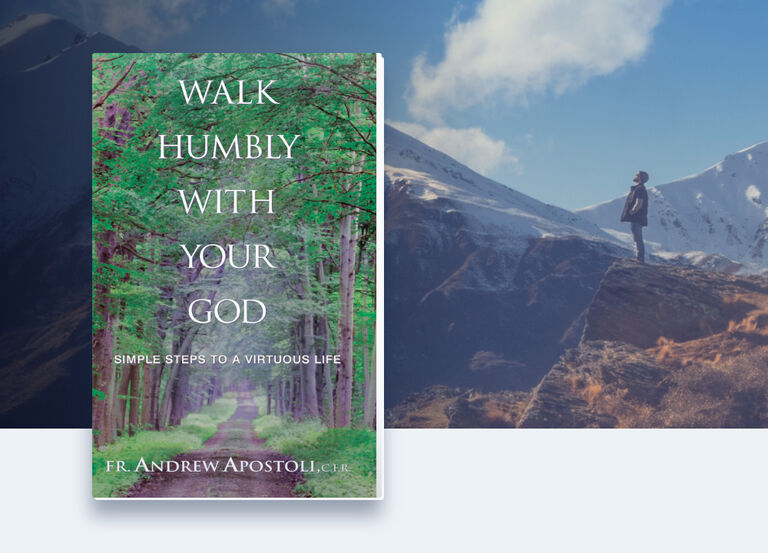 View Video Transcript:
English
|
Spanish
Transcript
March 25, 2021
The Sixth Shift: Just Keep Showing Up
A very wise, old, holy priest taught me the sixth seismic shift. I met him when I was in Europe many, many years ago, and he was living in a monastery and clearly was a man of deep prayer, clearly was a man who had dedicated his life to walking with God, trying to know God, trying to know himself, and helping as many others as possible to make that same journey. I asked him, "What is the secret to a vibrant, dynamic prayer life?" He smiled, and I could tell it had amused him, and he said, "Just keep showing up." I expected something different. I think we often do. I thought I expected something more. I said to him, "What do you mean by that? Just keep showing up?" He said, "I'm speaking in plain English. Just keep showing up." He went on to explain that we make this shift in the spiritual life when the decision to pray is no longer a daily decision. We no longer wake up and say, oh, am I going to pray today or do I feel like praying today or don't feel like praying today or what time am I going to pray today. He said the sixth shift is when we just decide we're going to show up, no matter what. It's no longer a decision. It's a decision that has been made, once and for all: we are just going to keep showing up and letting God do his thing and trusting, and believing that God is working in us, through prayer, in prayer, even when it may feel the opposite.
So we've made our journey through the six seismic shifts in the spiritual life. You realize, okay, they don't happen in that order to everybody. They happen at different times in different people's lives, but you also discover that you don't have to be a certain age to experience these enormous spiritual shifts in our lives. You don't have to have certain education. You don't need this degree or that advanced degree to experience these six spiritual shifts. They're available to everybody. They're available to anybody. And they're most available to us when we open ourselves up to them, when we open ourselves up to life, to the-best-version-of-ourselves, to God, and to the amazing possibilities that he can see for us, but that we very often cannot see for ourselves. The amazing possibilities that he sees for us and that he very much wants to reveal to us if we will enter into the classroom of silence, sit down with him, be with him, and allow him to guide us, encourage us, and challenge us.
Transcript (Español)
25 de marzo de 2021
La sexta transición: Sigue haciéndote presente
Un sacerdote muy sabio, ya mayor, me enseñó acerca de la sexta gran transición en la vida espiritual. Lo conocí cuando estuve en Europa hace muchos, muchos años. Vivía él en un monasterio y era claramente un hombre de profunda oración, ciertamente un hombre que había dedicado su vida a caminar con Dios, tratando de conocerlo, de conocerse a sí mismo y ayudando a tantas personas como fuera posible a recorrer ese mismo camino. Le pregunté:
–¿Cuál es el secreto de una vida de oración vibrante y dinámica? –Sonrió, y me di cuenta de que le había hecho gracia, y me respondió–: ¡Simplemente sigue haciéndote presente!
En realidad, yo esperaba una respuesta distinta. Creo que nos pasa a menudo. Me parece que yo estaba esperando algo más. Le dije: –¿Qué quiere decir usted con eso? ¿Solo hacerme presente? Y me dijo: –Estoy hablando en términos sencillos. Simplemente sigue yendo. Continuó explicando que hacemos esta transición en la vida espiritual cuando la decisión de rezar ya no es más una decisión del día a día. Ya no nos levantamos y decimos: ­–Ay, voy a rezar hoy o tengo ganas de rezar o no tengo ganas o a qué hora voy a disponerme hoy. Me explicó que la sexta transición se da cuando decidimos que vamos a llegar, que nos vamos a hacer presentes, sin importar lo que pase. Ya no es una decisión del momento. Es una decisión que se ha tomado de una vez por todas: vamos a seguir haciéndonos presentes, vamos a dejar que Dios actúe, confiando y creyendo en que Dios está trabajando en nosotros a través de la oración, en la oración, incluso cuando nos parece lo contrario.
Así que hemos caminado juntos pasando por las seis grandes transiciones en la vida espiritual. Estamos de acuerdo, no para todos transcurre en ese orden. Descubres que ocurren en diferentes etapas de la vida, pero también que no tienes que tener una cierta edad para experimentar estas grandes transiciones espirituales en la vida. No necesitas tener cierta educación, tampoco un título determinado ni un doctorado, Están al alcance de todos. Están disponibles para cada uno de nosotros, y más lo están cuando nos abrimos a ello, cuando nos abrimos a la vida, a la mejor versión de nosotros mismos, a Dios, y a las increíbles posibilidades que Él puede ver para nosotros, pero que muy a menudo no podemos ver por nosotros mismos. Esas increíbles posibilidades que Él ve para nosotros y que quiere revelarnos si entramos en el aula del silencio, si nos sentamos con Él, si estamos con Él y si le permitimos que nos guíe, nos dé aliento y nos rete a crecer.