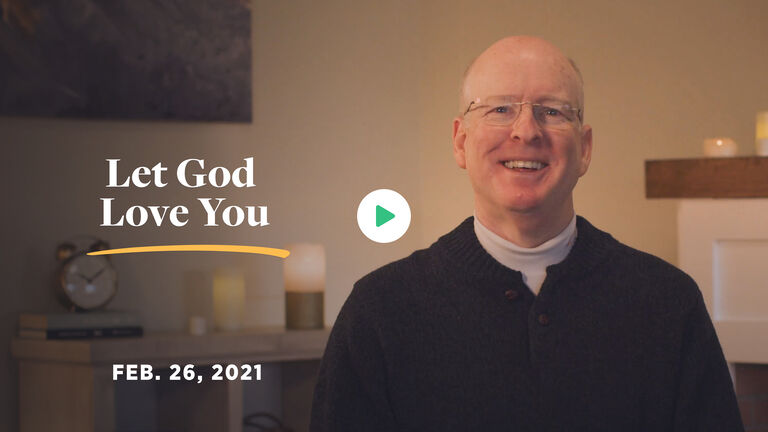 Dreams for Your Grandchild
Discover your hidden power as a Catholic grandparent in this fantastic book by Dr. Allen Hunt.
View Video Transcript:
English
|
Spanish
Transcript
February 26, 2021
Let God Love You
If I were talking to my younger self about a daily habit of prayer, I think looking back now I would say, "Talk and ask less. Listen and love more."
I think about my friend, Father Jim, marvelous priest, and when he was a young priest he lived with and served under the leadership of Father Feldman, who was his mentor and kind of spiritual leader and guide into the priesthood. But as Father Jim got older, he got assigned to a new parish where he became the pastor. And he was on the far side of the diocese from where Father Feldman was, and so he wasn't able to visit Father Feldman as much as he would have liked and be able to spend time with him as often as he would have preferred. Father Feldman got ill and was clearly headed toward death. And Father Jim was celebrating Mass one day at his parish on one side of the diocese when he got word that said, if you're going to see Father Feldman before he dies, you need to get over there as quickly as possible because he's nearing the end.
So Father Jim dropped everything. He drove all the way across the diocese several hours. He rushed into the hospital to see Father Feldman one last time. And when he went into the hospital room, it was totally empty and totally quiet. Even the bed was empty, and it was all made up. And Father Jim said he was just devastated because he realized he was too late, didn't get to see his longtime friend and spiritual mentor. And he looked over to the corner of the hospital room. And there in the corner of the hospital room by the window with his back to the rest of the room staring out the window seated in total silence was Father Feldman. And Father Jim said, "Father Feldman, you're here. I'm so glad to see you. What are you doing?" And after a long silence, Father Feldman said, "I'm just sitting here letting God love me."
So I think if I was talking to my younger self 30 years ago, I would say, "Talk and ask less. Listen and love more."
Transcript (Español)
26 de febrero de 2021
Deja que Dios te ame
Mirando atrás, si pudiera devolverme a mis años de juventud y hablar conmigo mismo acerca del hábito de la oración, creo que me diría: «Habla y pide menos. Escucha y ama más».
Pienso en mi amigo, el padre Jim, un cura maravilloso. En sus años de juventud como sacerdote vivió con el padre Feldman, quien era no solo su director, sino su mentor y guía vocacional. Varios años después, el padre Jim fue asignado a una nueva parroquia en donde llegó a fungir como párroco. Esa parroquia se encontraba en un sitio remoto de la diócesis, al otro lado de donde estaba el padre Feldman, por lo que no podía visitarlo tan frecuentemente ni pasar tanto tiempo con él como hubiera deseado. El padre Feldman enfermó y era claro que la muerte se le avecinaba. Un día estaba el padre Jim celebrando la misa en su parroquia cuando recibió el mensaje de que si iba a ver al padre Feldman antes de que muriera tenía que ir allí lo antes posible pues se estaba acercando el final.
Así que el padre Jim dejó todo lo que estaba haciendo y emprendió el camino. Condujo varias horas cruzando la diócesis de un extremo a otro y entró en carrera al hospital para ver al padre Feldman por última vez. Al entrar encontró la habitación desocupada y en absoluto silencio. No había nadie en la cama y estaba bien tendida. El padre Jim se sintió devastado pues se había dado cuenta que había llegado demasiado tarde, que no había podido ver a su viejo amigo y mentor espiritual. Miró entonces hacia un lado de la habitación y allí en la esquina, de espaldas y mirando por la ventana en total quietud, estaba el padre Feldman. El padre Jim le dijo: –Padre Feldman, está usted aquí. Me alegro mucho de verle. ¿Qué está haciendo? –Y después de un largo silencio, el Padre Feldman le contestó–: Simplemente estoy sentado aquí dejando que Dios me ame.
Así que si estuviera hablando conmigo mismo, hace treinta años, creo que me diría: «Habla y pide menos. Escucha y ama más».