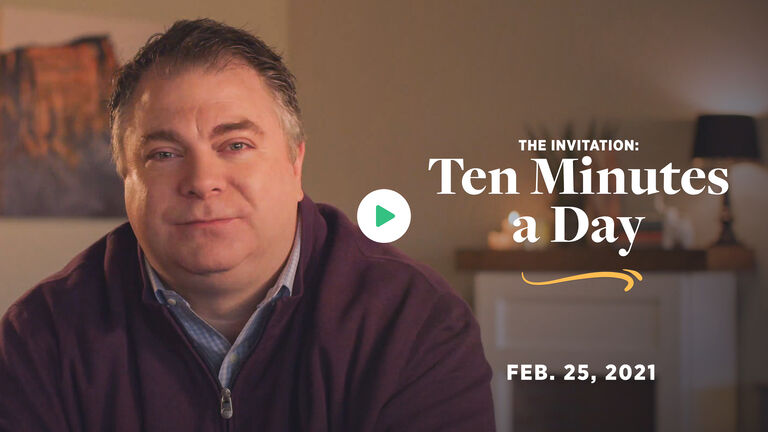 Looking for a practical guide to prayer? This could be just the book you're looking for.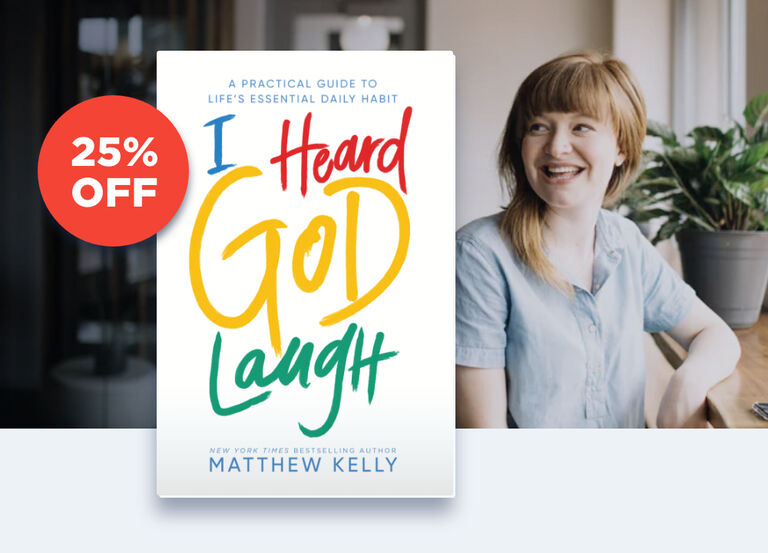 View Video Transcript:
English
|
Spanish
Transcript
February 25, 2021
The Invitation: Ten Minutes a Day
One of the most epic spiritual quotes of all time is from Augustine. He said, "Our hearts are restless until they rest in you, o Lord." Our hearts are restless, every day, every week, every month, in different ways to different degrees for different reasons.
One of the invitations of the spiritual life is to locate your restlessness, is to locate your discontent, is to locate your dissatisfaction because God is speaking to us through that restlessness. He's speaking to you through that dissatisfaction. And we all experience this. We experience it in our work, we experience it in relationships, we experience it in general about ourselves and the direction of our lives. What are you restless about? What are you restless about? And how are you going to work that out? Are you likely to work that out in a crazy, noisy, busy world in the midst of constant distractions? Or in order to work out what you're really dissatisfied with and where restlessness is coming from, do you need to go into the classroom of silence and sit down with your God for a few minutes each day and really pinpoint that discontent, that dissatisfaction, that restlessness?
And so our restlessness really is an invitation. It's an invitation to think about our lives. It's an invitation to think about what we are dissatisfied with. And it's an invitation from God. What's it an invitation to? It's an invitation to grow, it's an invitation to improve, it's an invitation to leave behind yourself of yesterday and to embrace yourself of today and tomorrow, to turn away from your-lesser-version-of-yourself and to embrace a-better-version-of-yourself. In religion and spirituality and theology, this process is referred to as conversion. And what is conversion? It's a process of changing from one form to another. Changing from one person to another? No. Changing from one form to another, one form of yourself, a lesser-form-of-yourself to a better-form-of-yourself.
And as we explore this prayer of the heart, which is the type of prayer we're going to explore in our time together, what we will discover is that the reason most people don't pray, the reason most people stop praying, is because we aren't willing to participate in the conversion of the heart. Because prayer of the heart always leads to conversion of the heart. But it's an invitation that we can accept or reject. And so the question is: are you willing? Are you ready to accept God's invitation to go deeper to go to a better place to live a better life? Are you ready to accept that invitation?
Transcript (Español)
25 de febrero de 2021
La invitación: Diez minutos al día
Una de las citas espirituales más grandiosas de todos los tiempos es de san Agustín: «Nuestro corazón inquieto está hasta que descanse en ti, Señor». Nuestros corazones están inquietos todos los días, todas las semanas, todos los meses, de diferentes maneras y en diferentes grados por diferentes razones.
Una de las invitaciones de la vida espiritual es identificar tu inquietud, tu descontento, tu insatisfacción porque Dios nos habla a través de esa inquietud. Él te habla a través de esa insatisfacción. Y todos lo experimentamos. Lo experimentamos en nuestro trabajo, en las relaciones personales, en nosotros mismos y en la dirección que va tomando nuestra vida. ¿Qué te está generando desasosiego? ¿Qué te está inquietando? ¿Y cómo lo vas a resolver? ¿Crees que puedas resolverlo en un mundo delirante, en medio del caos, del ruido y de las constantes distracciones? ¿O crees que para averiguar a raíz de qué estás insatisfecho y de dónde viene ese desasosiego, necesitas ir al aula del silencio y sentarte con tu Dios durante unos minutos cada día y realmente identificar, aislar ese descontento, esa insatisfacción, esa inquietud?
Así que nuestra inquietud es realmente una invitación. Es una invitación a pensar en nuestra vida. Es una invitación a pensar en las raíces de nuestra insatisfacción. Es una invitación que Dios nos hace. ¿A qué nos invita? A crecer, a mejorar, a dejar atrás el ayer y a abrazar el hoy y el mañana, a apartarte de una versión inferior de ti mismo y a abrazar una mejor. En la religión, la espiritualidad y la teología, nos referimos a este proceso como conversión. ¿Y qué es la conversión? Es un proceso de cambio de una forma a otra. ¿Cambiar de una persona a otra distinta? No. Cambiar de una forma a otra, de una manera de ser a otra mejor.
Durante este tiempo juntos exploraremos la oración del corazón y descubriremos que la razón por la que la mayoría no rezamos o dejamos de hacerlo es porque no estamos dispuestos a participar en la conversión del corazón. Porque la oración siempre conlleva la conversión del corazón, sin embargo, es una invitación que podemos aceptar o rechazar. Así que la pregunta es: ¿estás dispuesto? ¿Estás dispuesto a aceptar la invitación de Dios a profundizar y caminar hacia a un mejor lugar y vivir así una vida plena? ¿Estás dispuesto a aceptar esa invitación?