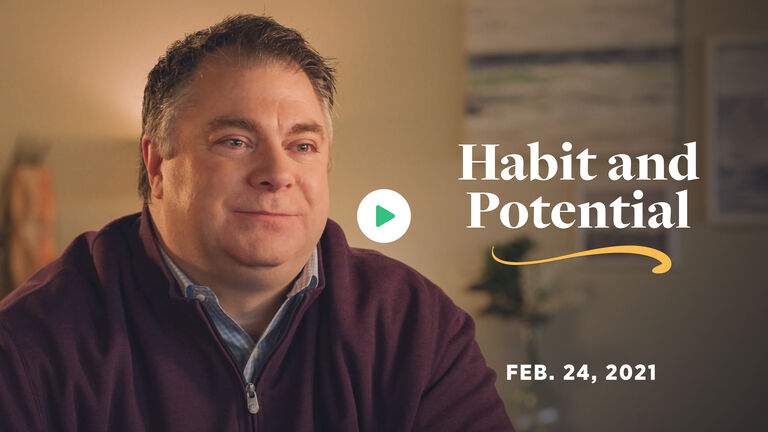 365 days of AMAZING possibilities—discover daily inspiration from Matthew Kelly as you journey through the next year!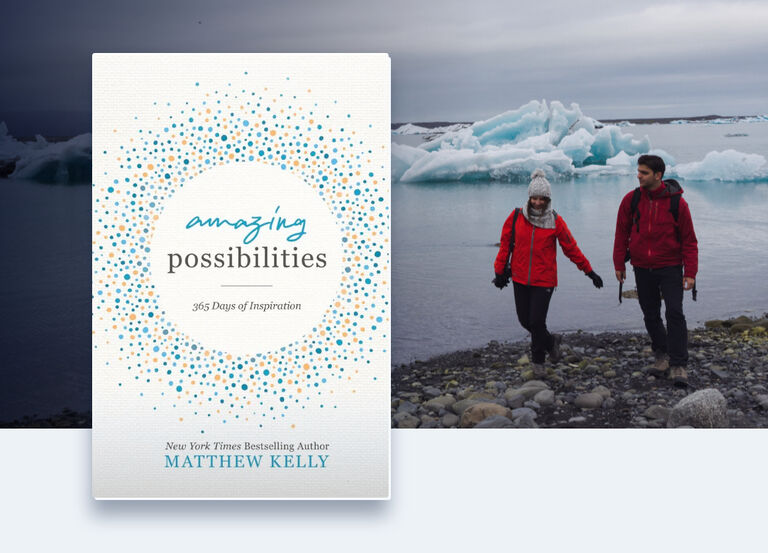 View Video Transcript:
English
|
Spanish
Transcript
February 24, 2021
Habit and Potential
One of my dreams for you, as we make this journey together, is that you become convinced once and for all of the power of habit. Habits have an incredible power in our lives. Often we think about the power of things we cannot control or the power of things beyond our influence. Often we think about how powerfully circumstances affect our lives, good or bad. But habits are more powerful than circumstances. We measure character very often by the way people deal with the unexpected, good and bad. When unexpected things come along in people's lives, how do they process them in their lives? How do they absorb them into their lives? A lot of that depends on habit. And very often we get caught up in sort of the misery of circumstances that are beyond our control, that we find disheartening, or that suck our hope away from us, we find discouraging. At those moments what God is really calling us to do is to focus on the habits that can overwhelm the circumstances. The habits that can triumph over the circumstances of our lives.
Why are habits so powerful? Because they have the potential to unlock our potential. Habits, they have the ability to unlock our potential, and that's a beautiful thing. When we look at children, we talk a lot about potential. When we talk about children, we see them doing new things every day. We see them just brimming with potential. The truth is that you and I, regardless of our age, are still brimming with potential. But somewhere along the way we stopped thinking about it. We stopped talking about it. But God never does. As the Divine parent, he looks at us, his children, and he sees astounding potential.
You've heard me say it before: our lives change when our habits change. And no habit will change your life more than stepping into the classroom of silence each day, sitting down with your God, and spending a few minutes in prayer and reflection.
Transcript (Español)
24 de febrero de 2021
Los hábitos y el potencial
Uno de mis anhelos para ti, mientras hacemos este recorrido juntos, es que te convenzas de una vez por todas del poder de los hábitos. Los hábitos tienen un increíble poder en nuestras vidas. Con frecuencia pensamos en el poder que tienen las cosas que no podemos controlar o en el poder de lo que está más allá de nuestra influencia. A menudo pensamos en cuán poderosamente las circunstancias afectan nuestra vida, para bien o para mal. No obstante, los hábitos son más poderosos que las circunstancias. Muy a menudo medimos el carácter por la manera en que la gente lidia con lo inesperado, bueno o malo. Cuando algo inesperado surge en la vida de alguien, ¿cómo lo toma?, ¿cómo lo asimila en su vida? Mucho de eso depende de los hábitos. Y muy a menudo quedamos atrapados en una especie de miseria por circunstancias que están más allá de nuestro control, que nos descorazonan o que nos roban la esperanza y nos desalientan. En esos momentos lo que Dios está realmente llamándonos a hacer es a enfocarnos en los hábitos que pueden sobrepasar las circunstancias, los hábitos que pueden triunfar sobre las circunstancias en que están inmersas nuestras vidas.
¿Por qué los hábitos son tan poderosos? Porque tienen la capacidad de liberar nuestro potencial, y eso es algo hermoso. Cuando miramos a los niños, nos referimos frecuentemente a su potencial. Cuando hablamos de los niños, los vemos haciendo cosas nuevas todos los días. Los vemos simplemente rebosantes de potencial. La verdad es que tú y yo, sin importar nuestra edad, estamos todavía rebosando de potencial. Pero en algún punto del camino dejamos de tomarlo en cuenta. Dejamos de referirnos a ello. Pero Dios nunca lo hace. Como Padre Divino, Él nos mira a nosotros, sus hijos, y ve un potencial asombroso.
Me has escuchado decirlo antes: nuestras vidas cambian cuando nuestros hábitos cambian. Y ningún hábito cambiará tu vida más que entrar cada día al aula del silencio, sentarte con tu Dios y pasar unos cuantos minutos en oración y reflexión.