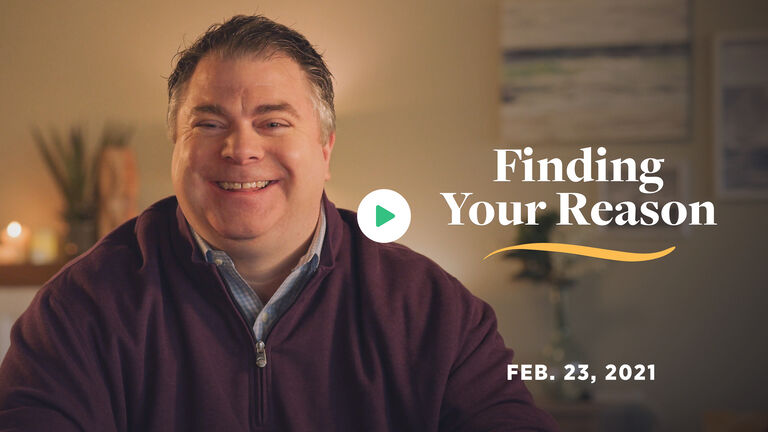 ALL about prayer. Begin with this book, written by Matthew Kelly and inspired by God's laughter.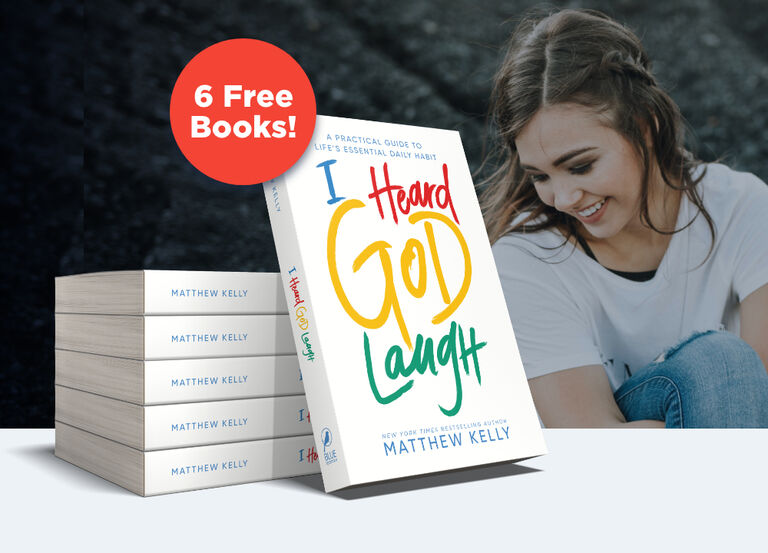 View Video Transcript:
English
|
Spanish
Transcript
February 23, 2021
Finding Your Reason
One of the most important things that we need to do as we make this journey together is establish your reason, establish your why. Why are you going to pray? Why is prayer important to you? Other people can tell you their reasons, and I will share some of mine with you. But that's only so that you can work out what your own reason is or what your own reasons are. The clearer you become about your reasons for prayer, the more likely you are to establish this essential daily habit as a key touchstone in each and every single day of your life.
In the beginning, when I first started praying, I was in my mid-teens, and I started stopping by at church on the way to school each morning for about 10 minutes. And of course, that's the origin of the 10 minutes a day. Why do I encourage so many people just to start with 10 minutes a day? Because it transformed my life. It changed my life. And when I first started praying, I didn't have elevated theological reasons for praying each day. Quite the opposite, in fact. I mean, my reasons were pretty practical and, in many ways, very self-centered. I noticed there was a difference between the days when I prayed and the days when I didn't. The days when I pray are better days. I got 30 years of data now. There are still days when I really struggled to pray even though I know, without question, the days when I pray are better days. And so in the beginning, that's why I kept praying. That's why I kept stopping by the church on the way to school for 10 minutes each morning because the days when I prayed were better days. And I recognized the days when I was too lazy or I slept in or I couldn't be bothered or whatever reasons or justifications I gave myself for not stopping in and spending 10 minutes in a classroom of silence with my God, I realized those days I didn't have the same peace. I didn't have the same purpose. I didn't have the same direction. I didn't have the same drive, the same movement toward what is good and best for me and best for others.
Transcript (Español)
23 de febrero de 2021
Encuentra tu razón
Una de las cosas más importantes que necesitamos hacer mientras recorremos juntos este camino es establecer tu razón, establecer tu porqué. ¿Por qué vas a rezar? ¿Por qué es la oración importante para ti? Otras personas pueden decirte sus razones y yo voy a compartir algunas de las mías contigo. Pero es solo para que puedas elucidar tus propios motivos, encontrar tus propias respuestas. Entre más claras tengas estas razones mayor es la probabilidad de que establezcas este hábito como algo esencial, como la piedra angular de todos y cada uno de los días de tu vida.
Estaba en la adolescencia cuando empecé a rezar y recuerdo que al principio, de camino al colegio, me detenía en la iglesia unos diez minutos cada mañana. ¿Por qué es que aliento a tantas personas a empezar con diez minutos al día? Porque eso transformó mi vida. Cambió mi vida. Cuando empecé a rezar a diario, no tenía profundas razones teológicas para hacerlo. Más bien lo contrario. Me refiero, mis razones eran bastante prácticas y en cierto sentido, muy egocéntricas. Noté que había una diferencia entre los días en que destinaba tiempo a la oración y los días en que no lo hacía. Llegué a la conclusión de que los días en que hago oración son mejores. A lo largo de treinta años he acumulado datos suficientes. Todavía hay días cuando en realidad me cuesta hacerlo, incluso cuando sé, sin el menor cuestionamiento, que los días en que dedico tiempo a la oración transcurren mucho mejor. Así que al inicio fue por eso que seguí rezando. Por eso es que seguí pasando por la iglesia de camino al colegio por unos diez minutos cada mañana. Simplemente los días en que lo hacía eran mejores. Y reconocía que los días en que me daba pereza, o no me levantaba a tiempo o no me venía en gana, o por cualquier otra razón o justificación que me daba para no pasar esos diez minutos en el aula del silencio con Dios, eran días que no tenía la misma paz, no tenía el mismo sentido de propósito. No tenía la misma dirección. No tenía el mismo ímpetu ni la misma disposición para avanzar hacia lo bueno, hacia lo mejor para mí y para los demás.