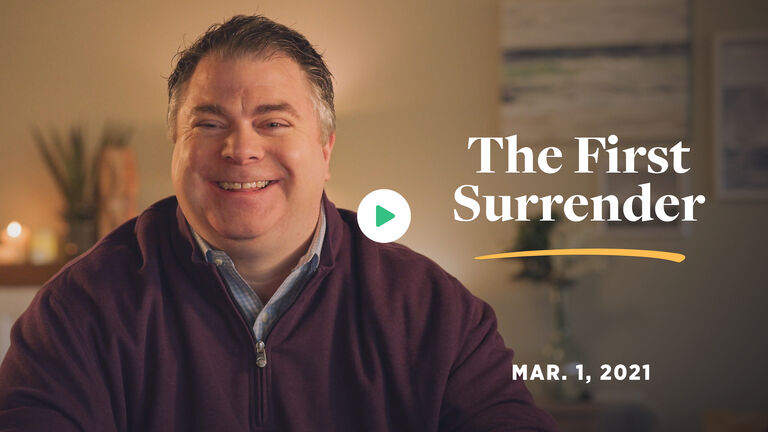 View Video Transcript:
English
|
Spanish
Transcript
March 1, 2021
The First Surrender
When I first started making prayer a part of my daily life, in the beginning, I would pray, I would have clarity about my day and my life. I loved that, and I would come back again the next day and pray. And those first few weeks were fairly smooth sailing and a time of great joy and great peace and great clarity in my life. But a few weeks into it, I found myself in a place where we find ourselves very often in life, and that is with a decision to make. I had to make a decision. I didn't know what to do. And I remember one morning, I'm walking to school, I stop in the back of church and used to sit way down the back, and I just remember saying to God, "Listen, God, I got a problem here. I got a situation here." And I remember describing the situation to God in just a conversation, just like you talk to a friend. This is the situation. These are the circumstances. This was what's going on. This is how it came to be. And then, unconsciously, I just tripped over this monumental question of the spiritual life, and I said to God, "God, what do you think I should do?" And it seems like just such an ordinary question, but it is a question that will change your life. God, what do you think I should do?
It's interesting because we make a lot of choices in our lives. We make a lot of decisions in our lives. And when we have a bigger decision to make we usually seek counsel from people in our lives. What's interesting and tragic, is that we usually seek counsel from just about everyone who knows just about nothing about just about nothing compared to the Advisor that we leave on the bench in our lives. And that advisor is God, who knows everything about everything, whose got all the answers to all of our questions, but very often we don't consult him. We let him sit on the bench while we're talking to family and friends and colleagues and asking them for their advice. And Jesus is sitting on the bench and saying, "Put me in the game. I got the answers. I can help you. I want to help you. I want to help you make the best decision possible. I want to help you make the right choice."
And so I stumbled upon this question: God, what do you think I should do? What do you think I should do? I don't know about you, but I've got a decision I need to make in my life right now. Most of the time we do. You've got a question that's preoccupying your heart right now. How are you going to deal with that question? How you going to wrestle with that decision? And who's going to be your best advisor to help you make the right choice, to help you make the best decision?
And so today I just want to invite you to give that question a place in your life. Just turn to your God, sit with your God, step into the classroom of silence, and say, "God, what do you think I should do?" In this situation, in this relationship, in my career, with the rest of my life. God, what do you think I should do with the rest of my life? Because that question will take you on amazing adventures.
Transcript (Español)
1 de marzo de 2021
Rindiéndonos por primera vez
Al inicio, cuando empecé a hacer de la oración parte de mi vida diaria, rezaba, tenía claridad sobre mi día y mi vida. Me encantaba eso y podía al día siguiente de nuevo volver a rezar. Aquellas primeras semanas fueron bastante fáciles de navegar y un tiempo de gran gozo y gran paz, y de gran claridad en mi vida. Pero en pocas semanas me encontré en un lugar donde nos encontramos muy a menudo en la vida, con una decisión que tomar. Tenía que decidir algo y no sabía qué hacer. Y recuerdo una mañana… voy de camino al colegio y entro a la iglesia, me siento en una de las bancas de atrás y solo recuerdo decirle a Dios: –Escucha, Dios, tengo este problema. Estoy pasando por esta situación. Y recuerdo describirle la situación a Dios en una simple conversación, así como le hablas a un amigo. Esta es la situación. Estas las circunstancias. Esto lo que estaba pasando y así es como desencadenó. Y luego, inconscientemente, me encontré con esta monumental pregunta de la vida espiritual, y dije a Dios: –Dios, ¿qué crees que debo hacer? Y parece tan solo una pregunta ordinaria, pero es una pregunta que cambiará tu vida. Dios, ¿qué crees Tú que debo hacer?
Es interesante porque elegimos muchas cosas en nuestras vidas. Tomamos muchas decisiones. Y cuando tenemos una decisión muy importante que tomar generalmente buscamos el consejo de personas cercanas. Lo que es interesante y trágico a la vez, es que generalmente buscamos consejo de prácticamente todos los que no saben casi nada comparado con el Mentor que hemos dejado sentado en la banca de nuestra vida. Y ese mentor es Dios, quien sabe todo de todo, quien tiene todas las respuestas a todas nuestras interrogantes, pero muy a menudo no le consultamos. Lo dejamos sentado en la banca mientras nosotros estamos hablando con la familia y los amigos y los colegas, pidiéndoles a ellos su consejo. Y Jesús sentado en la banca nos dice: –Méteme al juego. Tengo las respuestas. Te puedo ayudar. Te quiero ayudar. Quiero ayudarte a que tomes la mejor decisión posible. Quiero ayudarte a tomar la decisión correcta.
Y así me encontré con esta pregunta: Dios, ¿qué crees que debería hacer?, ¿qué crees que debería hacer? No se tú, pero yo tengo una decisión que necesito tomar en mi vida ahora mismo. Nos sucede así casi siempre. Ahora mismo tienes una pregunta que te desasosiega. ¿Cómo vas a lidiar con esa pregunta? ¿Cómo vas a llegar a esa decisión? ¿Y quién va a ser tu mejor consejero para ayudarte a hacer la mejor elección, para ayudarte a tomar la mejor decisión?
Por eso hoy simplemente quiero invitarte a darle a esa pregunta un lugar en tu vida. Simplemente dirígete a Dios, siéntate con Él, entra a la clase del silencio y dile: –Dios, ¿qué crees que debo hacer… en esta situación, en esta relación, en mi carrera, con el resto de mi vida? Dios, ¿qué crees que debo hacer con el resto de mi vida? Porque esta pregunta te llevará a asombrosas travesías.