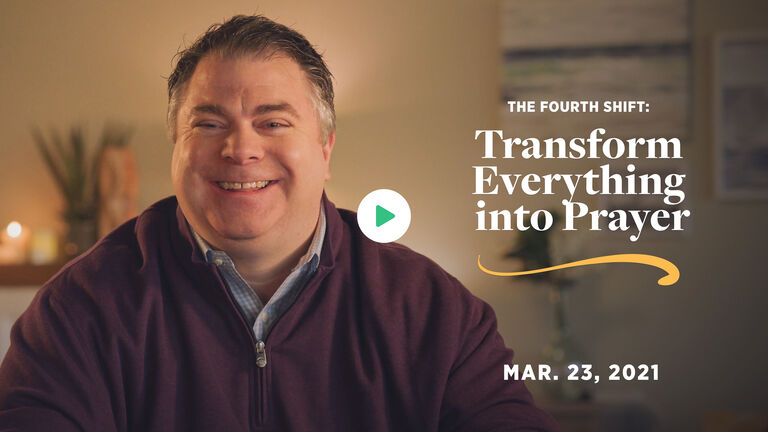 A daily habit of prayer is a transformational thing—and the biggest step is just getting started!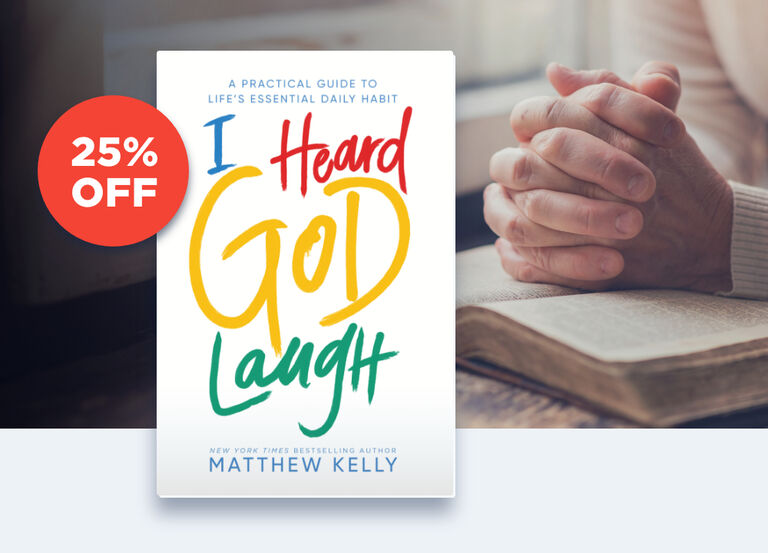 View Video Transcript:
English
|
Spanish
Transcript
March 23, 2021
The Fourth Shift: Transform Everything into Prayer
Saint Paul talked about the idea of praying constantly. We obviously can't go into our churches and pray all day and ignore or abandon our other roles and responsibilities. So what is it that Paul was getting at? What was Paul inviting us to? What insight did Paul have that we can benefit from?
The fourth seismic shift is transform everything into prayer. This is one of the most powerful and one of the most practical lessons that I was taught in my spiritual journey. At the time, I was in school, but I also had a part-time job. And I was taught this lesson that every hour of work or every hour of study can be transformed into an hour of prayer. I was encouraged by a friend of my family's to offer each hour of study as a prayer for a specific person. He said to me, "Have a pencil with you when you're studying and just write the initials of somebody in the top of each page you write, each of page of notes, or on the top of each page you read, and just offer the work on that page as a prayer to God for that person. And if possible, for a specific intention. If that person is suffering with an illness, offer that work to God as a prayer for that person who's suffering with that illness. If that person just lost their job, if that person's having trouble in their marriage, if that person's having trouble in their personal finances, if that person's struggling with an addiction, offer that hour of work or that page of work for that person." He told me the same thing around work just to say, "Okay, each hour,"—at the time, I used to have a watch on, and it dinged every hour on the hour, it dinged every hour on the hour—and he told me, "Just when the watch dings on the hour, just offer the next hour of work as a prayer for someone, someone specific with great intentionality."
In the book I Heard God Laugh, I wrote, "God is with us when we wash the dishes, when we change the baby's diaper, when we mow the lawn, when we make love to our spouse, commute to work, have dinner with our family, take care of the sick relative, pay the bills, and work on the budget, talk to our children, and when we hold hands with a friend, always, everywhere, and in everything, God is with us. That's why everything is prayer. Washing the dishes is prayer, changing the baby's diaper is prayer, mowing the lawn is prayer, commuting to work is prayer. Having dinner with your family is prayer. Taking care of a sick relative is prayer. Paying the bills and working on your budget is prayer. Talking to your children is prayer. Holding hands and making love with your spouse is prayer. The fourth seismic shift occurs when we discover that every activity can be transformed into prayer by offering it to God."
Transcript (Español)
23 de marzo de 2021
La cuarta transición: Transforma todo en oración
San Pablo hablaba de la idea de rezar constantemente. Evidentemente, no podemos ir a la iglesia y rezar todo el día e ignorar o abandonar nuestras otras funciones y responsabilidades. Entonces, ¿a qué quería llegar san Pablo? ¿A qué nos invitaba san Pablo? ¿Qué visión tenía de la que podemos beneficiarnos?
La cuarta transición es transformar todo en oración. Esta es una de las lecciones más poderosas y prácticas que me enseñaron en mi camino espiritual. En ese momento, estaba en la universidad, pero también tenía un trabajo de medio tiempo, y me enseñaron que cada hora de trabajo o cada hora de estudio puede transformarse en una hora de oración. Un amigo de mi familia me animó a ofrecer cada hora de estudio como una oración por una persona concreta. Me dijo: –Ten un lápiz cuando estés estudiando y escribe las iniciales de alguien en la parte superior de cada página que escribas, o de las notas que tomes, o en la parte superior de cada página que leas, y simplemente ofrece el trabajo de esa página como una oración a Dios por esa persona, y de ser posible, por una intención en particular. Si esa persona está sufriendo una enfermedad, ofrece lo que estás haciendo a Dios como una oración por ella. Si esa persona acaba de perder su empleo, si está teniendo problemas en su matrimonio, si está teniendo problemas en sus finanzas personales, si está lidiando con una adicción, ofrece esa página o esa hora de estudio por esa persona. Me dijo lo mismo con respecto al trabajo: –Bien, cada hora­–­. ­En ese momento solía andar un reloj de pulsera que sonaba cada hora y me dijo­: –Justo cuando el reloj suene, ofrece la siguiente hora de trabajo como una oración por alguien, alguien específico, ofrécela con gran intencionalidad.
En el libro Escuché a Dios reír, escribí: «Dios está con nosotros cuando lavamos los platos, cuando cambiamos el pañal del bebé, cuando cortamos el césped, cuando hacemos el amor con nuestro cónyuge, cuando nos desplazamos al trabajo, cuando cenamos con nuestra familia, cuando cuidamos del pariente enfermo, cuando pagamos las facturas y elaboramos el presupuesto, cuando hablamos con nuestros hijos y cuando le damos la mano a un amigo, siempre, en todas partes y en todo, Dios está con nosotros. Por eso todo es oración. Lavar los platos es una oración, cambiar el pañal del bebé es una oración, cortar el césped es una oración, ir al trabajo es una oración. Cenar con la familia es una oración. Cuidar de un familiar enfermo es una oración. Pagar las facturas y elaborar el presupuesto es una oración. Hablar con tus hijos es una oración. Tomarse de la mano y hacer el amor con tu cónyuge es una oración. La cuarta transición se produce cuando descubrimos que toda actividad puede transformarse en oración ofreciéndola a Dios».