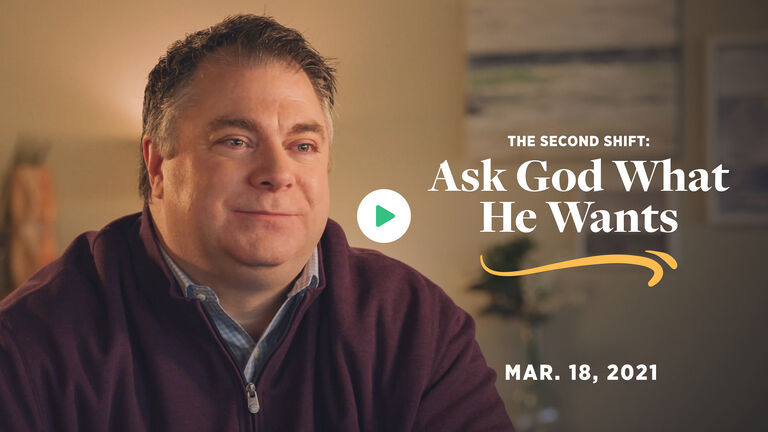 Dig the Well Before You Get Thirsty
Let Matthew Kelly's spiritual journey inspire yours with this interactive, day-by-day prayer journal!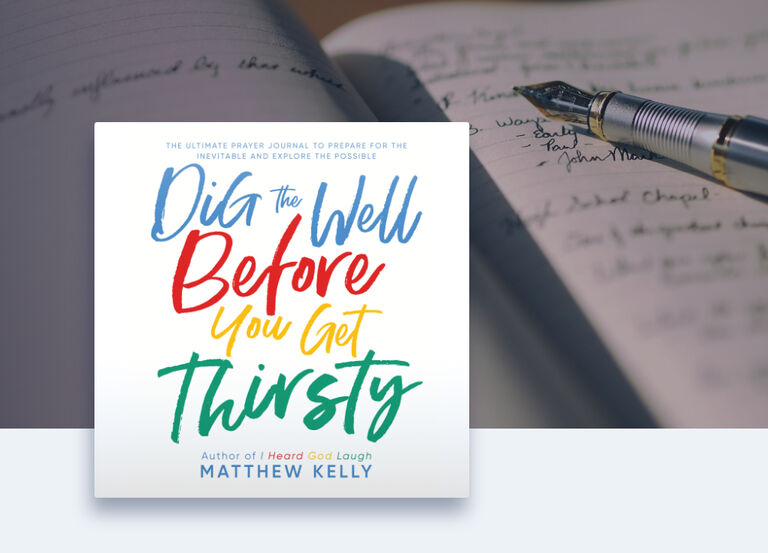 View Video Transcript:
English
|
Spanish
Transcript
March 18, 2021
The Second Shift: Ask God What He Wants
The second of the great seismic shifts we experience in the spiritual life is when we stop asking God for what we want and we start asking God what he wants. I talked about my great experience of stumbling upon what I call the big question when I was about fifteen and having the challenge, the situation, asking God, "God, what do you think I should do?" This is one of the great questions of the spiritual life. This is one of the great seismic shifts. We think it's just another question. No, it's not just another question. Our whole-world view shifts when we stop just constantly asking God for things, what we want, and we turn to him and ask him what he wants.
You see, most of the prayers muttered on the planet every day are asking God for something. If you had a friend and every time you saw that friend, that friend asked you for something or for many things, that friendship gets old pretty quick. It gets stale. It doesn't engage you. It feels off. It feels distorted. We have to learn to recognize the distortions in our relationship with our God. Is it okay to ask for things? Yes, absolutely. It's natural. It's normal. For a son to ask his father for something is the most natural thing in the world, the most normal thing in the world. But as children of God, if we are well-rounded that will be one part of our relationship with God. It won't be our entire relationship with God.
I'm often fascinated.
People will tell me after they have a meeting with famous people, "I met this person," or "I met the Pope," or "I met the President," or I met whoever—these famous people—and very often the conversation is about what they told the Pope or what they told the President or what they told this person that they met. I'm always fascinated by that. I'm fascinated because they had this moment. They had this opportunity to meet this person, and they took that opportunity to tell that person something rather than to ask that person something. And so, they came away from that opportunity not knowing any more than when they went into that opportunity, and that always strikes me as a tragedy because they had this one moment with this person. They're never going to meet again, the person they obviously admire, and they missed the opportunity to glean something new, fresh, insightful from that experience.
We go to our prayer, the same is true. We don't go to our prayer to tell God things all the time. We don't go to our prayer to ask God for things all the time. Both of these have their place in prayer. But the second seismic shift is when we turn away from asking for what we want. We turn to God and we say, "God, what do you want?" And the reason we make that shift is because—we realize consciously, subconsciously, fully, partially—we realize that God wants to share his wisdom with us and that it's by walking the path that he invites us along rather than the path we set for ourselves, by walking the path that he invites us along, that we will find the peace, the joy, the wisdom, the happiness that we yearn for unceasingly.
Transcript (Español)
18 de marzo de 2021
La segunda transición: Pídele a Dios que te muestre lo que Él quiere
La segunda de las grandes transiciones que experimentamos en la vida espiritual se da cuando dejamos de pedirle a Dios lo que nosotros queremos y empezamos a pedirle que te muestre lo que Él quiere. Hablé de esa maravillosa experiencia que tuve como a mis quince años cuando me topé con lo que yo llamo la gran pregunta. En medio del desafío, de la situación, le preguntaba a Dios: —Dios, ¿qué crees que debo hacer? Esta es una de las grandes preguntas de la vida espiritual. Este es uno de los cambios radicales. Pensamos que es una pregunta cualquiera. Pero no, no es solo otra pregunta. Nuestra visión del mundo cambia cuando dejamos de pedirle constantemente cosas a Dios, cuando dejamos de pedirle lo que nosotros queremos y nos volvemos a Él y le preguntamos qué quiere Él.
Ves, la mayoría de las oraciones que se pronuncian cada día en el planeta son peticiones a Dios. Si tuvieras un amigo y cada vez que lo ves te pide una o muchas cosas, esa amistad va a envejecer muy rápido. Se estanca, deja de atraerte. Se siente erosionada, distorsionada. De la misma manera, tenemos que aprender a reconocer las distorsiones en nuestra relación con Dios. ¿Está bien pedir cosas? Sí, absolutamente. Es natural. Es normal. Para un hijo pedirle algo a su padre es lo más natural del mundo, lo más normal del mundo. Pero como hijos de Dios, si somos equilibrados eso será una parte de nuestra relación con Él, no el todo.
A menudo me llama poderosamente la atención que cuando alguien ha conocido a una celebridad me cuenta: –Conocí a tal persona, o conocí al papa, o conocí al presidente, o conocí a quien fuera, a alguien famoso, y muy a menudo la conversación es sobre lo que le dijeron al papa, al presidente o lo que le dijeron a esa persona que conocieron. Eso siempre me cautiva. Me impresiona porque han tenido este momento, han tenido esta oportunidad de conocer a esta persona, y la tomaron para decirle algo en lugar de preguntarle algo. Y así, la dejaron pasar y no aprendieron nada más de que lo sabían cuando les llegó, y eso siempre me impresiona, me parece una tragedia pues tuvieron en sus manos este momento único. Nunca más se van a reunir con la persona que obviamente admiran y perdieron la oportunidad de sacar algo nuevo, fresco, profundo de esa experiencia.
Lo mismo pasa cuando vamos a nuestra oración. No vamos a nuestra oración a contarle cosas a Dios todo el tiempo. No vamos a nuestra oración a pedirle todo el tiempo cosas a Dios. Ambas tienen su lugar en la oración. Pero la segunda gran transición se da cuando dejamos de pedir lo que queremos. Nos volvemos a Dios y le decimos: —Dios, ¿qué es lo que Tú quieres? Y la razón por la que hacemos ese cambio es porque nos damos cuenta consciente o subconscientemente, parcial o plenamente, que Dios quiere compartir su sabiduría con nosotros y es al andar por el camino que Él nos invita a recorrer, y no por el camino que nosotros mismos nos hemos marcado, que encontraremos la paz, el gozo, la sabiduría y la felicidad que anhelamos incesantemente.