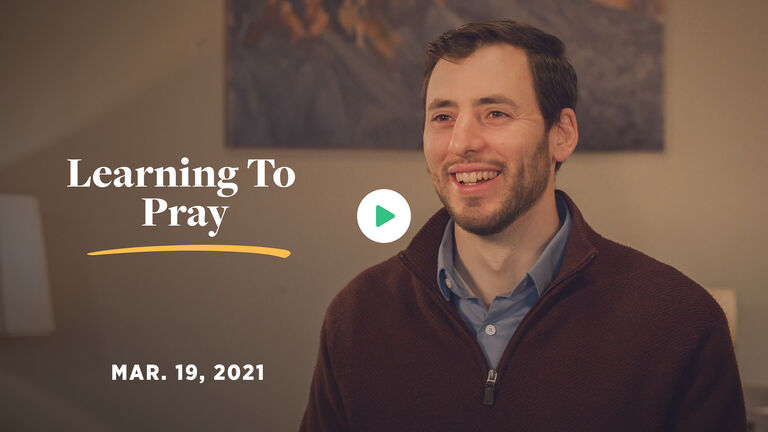 What if there's more to Catholicism than you ever realized? Take another look at your faith, from Matthew Kelly's perspective.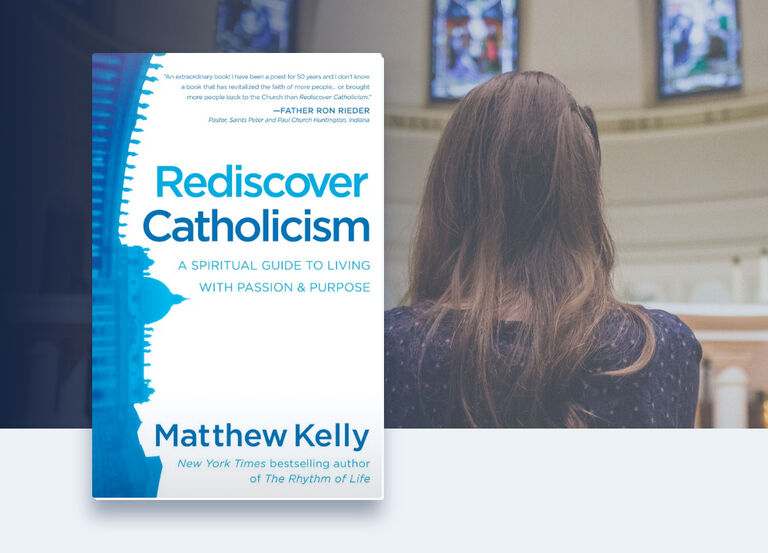 View Video Transcript:
English
|
Spanish
Transcript
March 19, 2021
Learning To Pray
The first time I ever tried to pray, I was 18 years old. I was doing a lot of searching at that time in my life: searching, searching for myself, searching for my place in the world. But most particularly, I was searching for God, whether or not he existed, and if he existed, who he was and what he wanted for me. And so I got it in my head that if I wanted to figure out who God was and what he wanted, I should just ask him. So I decided one night to try and pray. And I'd only ever seen people really praying on TV when they would sit and kneel at their bed and fold their hands and pray. So I get down on my knees, I folded my hands to pray. And I got there, and I had no idea what to do next. I had all the desire to pray, all the desire to talk to God, but I had no clue what to say. It wasn't like God had a telephone number I could just call him up and be like, "Hey, I want to talk to you. Are you real? What do you want from me?" It was far more awkward.
I did that for about a year, to be honest. Every night, before I went to bed, I would kneel down at my bed, fold my hands, and search for the words to describe what was going on in my mind, in my heart. And then about a year into doing this, I read Rediscover Catholicism. And in that book, Matthew has this line where he says, "The Bible is the greatest treasury of prayer. When I am weak, when I am lost, when I am uncertain, when I don't know what to say, I turn to the Psalms." And so that's what I did. I got an old family Bible, I opened it up to the first Psalm, and I prayed the Psalm. And I did this every single night. And it was the Psalms who taught me how to pray. They gave me the words, they gave me the praise, they gave me all that I needed to learn how to talk to God and share what was going on in the deepest parts of my heart. And it totally changed my life.
So if I could go back to my 18-year-old self and give one piece of advice getting started in prayer, I would say go to the greatest treasury of prayer there is. Go to the Psalms. And the Psalms will teach you how to pray.
Transcript (Español)
19 de marzo de 2021
Aprendiendo a rezar
La primera vez en mi vida que intenté rezar tenía dieciocho años. Había realizado ya muchas búsquedas: buscando, buscándome, buscando un lugar en el mundo. Pero particularmente, estaba buscando a Dios, ya fuera que existiera o no; y si existía, quién era y qué quería para mí. Así que se me metió en la cabeza que si quería averiguar quién era Dios y lo que quería, solo debía preguntarle. Entonces, una noche decidí tratar y rezar, y yo solamente había visto gente rezando en la televisión, cuando se sentaban y se arrodillaban al pie de sus camas, y juntaban sus manos y rezaban. Así que me puse de rodillas y junté mis manos para rezar. Llegué ahí y no tenía ni idea de lo que seguía por hacer. Tenía todo el deseo de rezar, todo el deseo de hablar con Dios, pero no tenía la más mínima idea de qué decir. No era como si Dios tuviera un número de teléfono donde pudiera llamarlo y decirle: –Oye, quiero hablar contigo. ¿Eres real? ¿Qué quieres de mí? Fue mucho más difícil.
Para ser honesto, lo hice así como por un año. Cada noche, antes de acostarme me arrodillaba al lado de la cama, juntaba mis manos y buscaba las palabras para describir lo que pasaba por mi mente, lo que pasaba por mi corazón. Y luego, después de un año de hacer esto leí Redescubre el catolicismo. Y en ese libro, Matthew escribe esa oración donde dice: «La Biblia es el tesoro más grande de oración. Cuando me siento débil, cuando estoy perdido, cuando no estoy seguro, cuando no sé qué decir, voy a los Salmos». Así que eso fue lo que hice. Tenía conmigo una antigua Biblia familiar y la abrí en el primer salmo, y lo recé. Hice esto cada noche. Y fueron los Salmos los que me enseñaron a rezar. Me dieron las palabras, me dieron la alabanza, me dieron todo lo que necesitaba para aprender a hablar con Dios y compartir lo que estaba pasando en lo profundo de mi corazón. Y eso cambió totalmente mi vida.
Así que si pudiera volver a mis dieciocho años y darme un consejo para empezar a rezar diría que el mayor tesoro de oración está ahí. Ve a los Salmos. Y los Salmos te enseñarán a rezar.