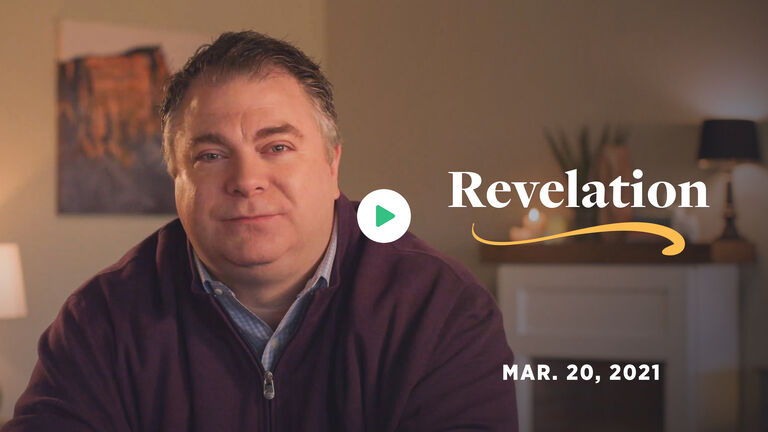 A big shift happens when you begin to ask God what he wants you to do. Make this shift today with Matthew Kelly's I Heard God Laugh.
View Video Transcript:
English
|
Spanish
Transcript
March 20, 2021
Revelation
This week, we have another fabulous Gospel reading. The Sunday Gospel readings during Lent are incredibly powerful. And in many ways, they're like a mini examination of conscience in just a few lines, a mini examination of our lives, a mini examination of consciousness: like how aware are we, how conscious are we of what's happening within us and around us in our world, in the lives and the hearts of the people we love. Each of these Gospel readings is like an examination of self and the way we're spending our lives.
Jesus goes on to speak in this week's Gospel, and he says, "Unless a grain of wheat falls to the ground and dies, it remains just a grain of wheat. But if it dies, it produces much fruit." You and I, we are that grain of wheat. We are that grain of wheat. And Jesus is constantly calling us throughout his life and teachings to die unto ourselves, to lay down our lives for others, for something bigger than ourselves, for something more important than ourselves. And he presents this as the way to life, presents this as the way to happiness, fulfillment, joy, and the ecstasy of the spiritual life. The world says don't lay down your life. Take up your life. Do what you want to do. The path to happiness is getting what you want and more of what you want as much of what you want. But you and I have both walked that path for a day, for a week, for a month, maybe for a whole season in our lives. And we know that path doesn't work. We know that path doesn't lead to happiness. We know the path that leads to happiness is a path of discipline. And we know that, if you want to measure the level of happiness in your life, measure the level of discipline in your life. You'll never have more happiness than you have discipline. And you'll never have more happiness than you have discipline. And when we abandon discipline, we're abandoning our own happiness. So what are you willing to lay down your life for? That's essentially what Jesus is saying today. What are you willing to lay your life down for?
Transcript (Español)
20 de marzo de 2021
Revelación
Esta semana tenemos otra fabulosa lectura del Evangelio. Las lecturas del Evangelio durante la Cuaresma son increíblemente poderosas. En muchos sentidos, son como un examen de consciencia en unas pocas líneas, una breve evaluación de nuestras vidas, un corto examen de consciencia: qué tan conscientes estamos, qué tan conscientes estamos de lo que está pasando en nosotros y en el mundo, en las vidas y en los corazones de la gente que amamos. Cada una de estas lecturas del Evangelio es como una examinación de uno mismo y de la manera en que estamos viviendo.
Continúa hablando Jesús en el Evangelio de esta semana y dice: «En verdad les digo: Si el grano de trigo no cae en tierra y muere, queda solo; pero si muere, da mucho fruto». Tú y yo somos ese grano de trigo. Nosotros somos ese grano de trigo. Y Jesús está llamándonos constantemente a través de su vida y enseñanzas a renunciar a nosotros mismos, a dar la vida por los demás, por algo más grande que nosotros, por algo más importante que nosotros mismos. Y Él lo presenta como el camino a la vida, el camino a la felicidad, a la plenitud, al regocijo y al éxtasis de la vida espiritual. El mundo dice no des tu vida, toma tu vida, haz lo que quieras hacer, el camino a la felicidad es conseguir lo que quieres, y más de lo que quieres, tanto como quieras. Pero tanto tú como yo hemos recorrido ese camino por un día, por una semana, por un mes, o quizá por toda una etapa de nuestra vida. Y sabemos que ese camino no funciona. Sabemos que ese camino no conduce a la felicidad. Sabemos que el camino que conduce a la felicidad es un camino de disciplina. Y sabemos que, si quieres medir el nivel de felicidad en tu vida, mide el nivel de disciplina. Nunca tendrás más felicidad que la disciplina que tengas. Y cuando abandonamos la disciplina, estamos abandonando nuestra propia felicidad. Así que, ¿a qué estás dispuesto a dar tu vida? Eso, esencialmente, es lo que Jesús nos está diciendo hoy. ¿A qué estás dispuesto a dar tu vida?