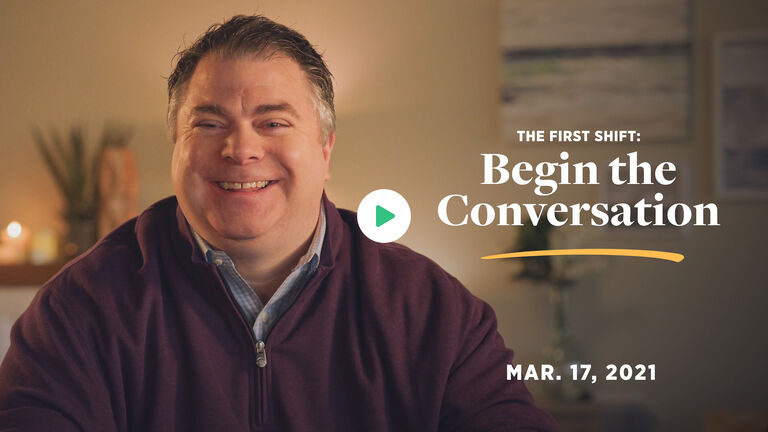 Discover the power of a habit of daily prayer in Matthew Kelly's I Heard God Laugh. Get your copy today!
View Video Transcript:
English
|
Spanish
Transcript
March 17, 2021
The First Shift: Begin the Conversation
In all the years I've been trying to show up each day and spend time with God in prayer in the classroom of silence, discover more about myself, discover more about life, discover God in new and unique and exciting ways, there've been many great moments. There've been hundreds of lessons. But there have been six seismic shifts that have completely changed the way I've experienced spirituality, the way I've experienced God, the way I've experienced prayer. The next six short sessions, I'm take you through each of these seismic shifts.
I use the word because the definition is enormous. There are many shifts in the spiritual life. But there are some things that feel like night and day. There are just enormous shifts. They're of monumental importance. And these are the six shifts I'd like to talk to you about. Interestingly, they feel very ordinary. Once you hear them, once you know them, you think, yeah, that makes sense. It's not a great secret. It's not a great mystery. But like most things, we need somebody to share it with us. We need somebody to teach it to us. Otherwise, we can be experiencing it and be unaware of it, or not be experiencing it at all.
The first shift is simply begin the conversation. If we want to make that journey from the head to the heart, the best way to do that is to begin the conversation, is to begin to talk to God about our lives, to begin to talk to God about what's on our hearts or what's in our mind or what's stopping us from getting out of our head and into our heart.
At the end of each day, I spent a few minutes with each of my children, just talking to them about their day. I spend this time with them one-on-one. I ask them about their day, and they share things about their day—fascinating things, things I would never know if I didn't have this special time with them. And I ask them questions. I ask them, "Do you have any problems?" It's interesting the things they see as problems, or it's interesting how few problems they have. And then they usually ask me a couple of questions. But this is a magical time in my life. This is a magical time in my day. I look forward to it. It's one of the things I miss the most when I'm traveling, when I'm on the road, when I'm away from home and away from the family.
At the end of each encounter with my children each night, I always end with the same thing. I say to them, "I want you to remember something." By this point, some of them, "I know, Dad. I know." "No, it's serious. I want you to remember something." "What is that, dad?" "I want you to remember: no matter what, no matter where, no matter when, Daddy always loves you. And if you ever have a problem, come to Daddy, talk to Daddy, and Daddy will help you work it out." It's the same with God, I think. He wants to be involved in our lives. He wants to have intimate conversations about what's happening in our hearts and our minds in our lives. He wants to help us solve our problems. He wants to help us solve our problems.
The first seismic shift to the spiritual life, "Begin the conversation." Just start talking to him. Just start talking to him. I'm telling you: talk to him, and miracles will begin to happen in the most ordinary things in your life.
Transcript (Español)
17 de marzo de 2021
La primera transición: Entabla la conversación
En todos estos años he estado intentando presentarme a diario en el aula del silencio y pasar el tiempo con Dios en oración, descubrir más sobre mí, descubrir más acerca de la vida, descubrir a Dios de maneras nuevas, únicas y emocionantes. Ha habido muchos momentos maravillosos, cientos de lecciones. Pero ha habido seis grandes transiciones que han variado completamente la manera en que he experimentado la espiritualidad, en que he experimentado a Dios, la manera en que he experimentado la oración. En las siguientes seis sesiones te llevaré a través de cada una de estas grandes transiciones.
Les llamo así porque la definición es enorme. La vida espiritual evoluciona de muchas maneras, pero hay algunos movimientos que se perciben como noche y día. Son simplemente transiciones que nos llevan a otro nivel. Son de monumental importancia. Y estas son las seis transiciones de las que me gustaría hablarte. Resulta interesante que estos cambios se sienten como algo ordinario, nada fuera de normal. Una vez que escuchas acerca de ellos, piensas, sí, esto tiene sentido. No es un gran secreto. No es un gran misterio. Pero como con la mayoría de las cosas, necesitamos de alguien que las comparta con nosotros. Necesitamos de alguien que nos las enseñe. De otro modo, podemos estar experimentándolo y no ser conscientes de ello, o no experimentarlo del todo.
La primera transición es sencillamente entablar la conversación. Si queremos hacer esta travesía de la cabeza al corazón, la mejor manera de hacerlo es empezar a hablar con Dios sobre nuestras vidas, sobre lo que tenemos en nuestro corazón o en nuestra mente o sobre aquello que nos está impidiendo emprender el camino de nuestra cabeza al corazón.
Al final de cada día, paso unos pocos minutos con mis niños, simplemente hablando de su día. Paso un tiempo exclusivo con cada uno, les pregunto acerca de su día y comparten lo que ha acontecido, cosas fascinantes, cosas que nunca hubiera podido conocer si no paso este tiempo especial con ellos. Y yo les hago preguntas: ¿Tienes algún problema? Son interesantes las cosas que ven como problemas o los pocos problemas que tienen. Y luego ellos por lo general me hacen un par de preguntas. Este es un tiempo mágico en mi vida, un tiempo mágico en mi día. Un tiempo que espero con ansias. Es una de las cosas que más extraño cuando estoy de viaje, cuando estoy lejos de casa y de la familia.
Todas las noches, al final de cada encuentro con mis hijos siempre concluyo de la misma manera. Les digo: –Quiero que recuerden algo. A estas alturas alguno de ellos dirá: – ¡Yo sé papá, yo sé! —Es en serio, quiero que recuerden algo: Sin importar qué, o dónde, o cuándo, papá siempre los ama. Y si tienen algún problema, acudan a papi, hablen con papi y papi les va a ayudar a resolverlo–. Pienso que pasa lo mismo con Dios. El quiere estar inmerso en nuestras vidas. Él quiere tener conversaciones íntimas sobre lo que está pasando en nuestros corazones, en nuestras mentes y en nuestras vidas. Él quiere ayudarnos a resolver nuestros problemas.
La primera de las grandes transiciones en la vida espiritual: entabla la conversación. Solo empieza a hablarle…solo empieza. Te lo digo, habla con Él y los milagros empezarán a ocurrir en las cosas más ordinarias de tu vida.