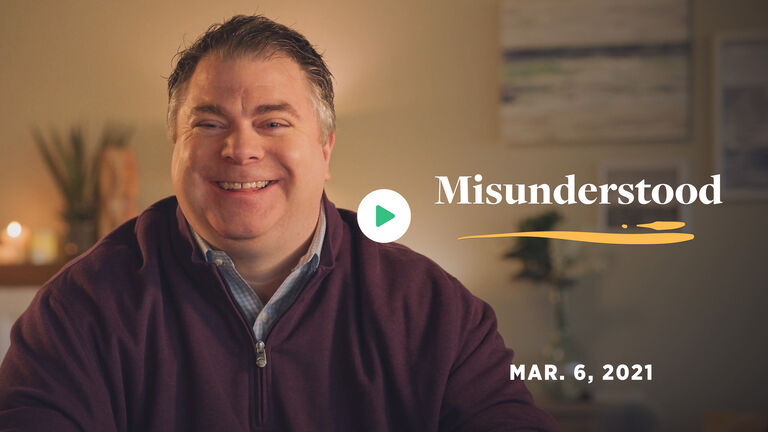 We cannot live the lives we have imagined unless we learn to tend to the soul. Start tending to your soul today with I Heard God Laugh by Matthew Kelly.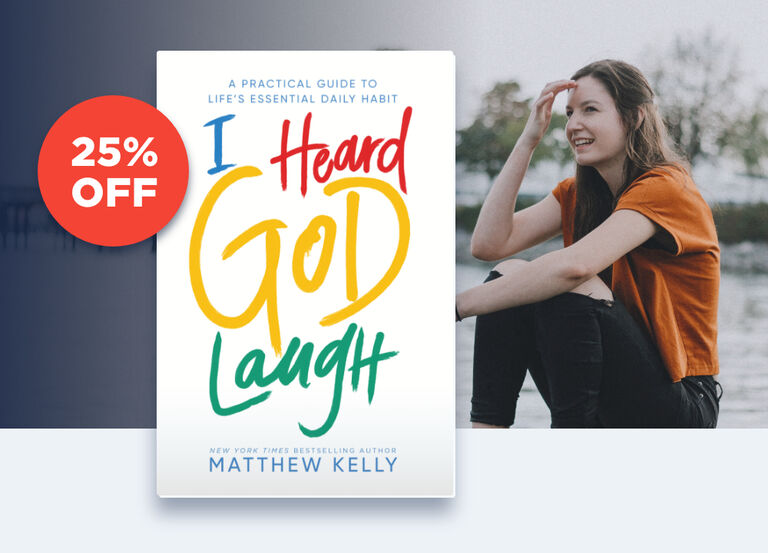 View Video Transcript:
English
|
Spanish
Transcript
March 6, 2021
Misunderstood
In this week's Gospel, we encounter a very angry Jesus. Most people, most of the time, when we think about Jesus, we don't think about angry Jesus. And I think our culture more and more has reduced Jesus to sort of the non-virtue of nice. Jesus was a nice guy. And I think that's a massive injustice because nice is so bland. And was Jesus respectful? Yes. Was he a good person? Yes. But very often when we use, oh, that person's a nice person—it isn't necessarily a high compliment, and Jesus deserves nothing but a high compliment from us.
In this week's Gospel, Jesus is angry: goes into the temple, all sorts of crazy stuff is going on, gets out a whip, starts turning over tables. And we see him angry, and it's a great lesson. It's a great lesson for a number of reasons. One is because it's important for us to know that there is a place for anger in our lives. There is tremendous injustice in this world, and we should be angry about it. Sometimes we can fall into the trap of thinking, oh well, it's a virtue not to be angry. Sometimes we can into the trap of believing little sayings that aren't part of the Gospel: like patience is always a virtue. Patience isn't always a virtue. If you're in a restaurant and somebody's beating somebody up outside, to patiently sit there and finish your dinner is not a virtue. Sometimes impatience is a virtue. And this is what we see here with Jesus. We see impatience, we see anger, in a very, very virtuous way because he saw injustice. And so it is important for us to realize that Christianity shouldn't homogenize us, shouldn't make us bland and boring. But it should make us fully alive. It should make us fully human. And to be human, sometimes the right response is to be angry.
It's a fabulous reading. There's just so much there for us. As we make this journey toward Easter, I think the question for us to ask ourselves is, "What are you angry at today? What are you angry about? Is it a holy anger or is it an un-holy anger?" And if it's a holy anger, what is God calling you to do with that and if it's an un-holy anger, what is God calling you to do with that?
Transcript (Español)
6 de marzo de 2021
Incomprendido
En el Evangelio de esta semana, nos encontramos con un Jesús muy enfadado. Casi nadie piensa normalmente en un Jesús enojado. Y creo que nuestra cultura, cada vez más y más, ha reducido a Jesús a la simple descripción, no precisamente virtuosa, de buena gente. Jesús era buena gente, un tipo agradable. Y creo que eso es una gran injusticia, porque ser buena gente es tan blando. ¿Era Jesús respetuoso? Sí. ¿Era una buena persona? Sí. Pero muy a menudo, cuando calificamos a alguien de buena gente, no es necesariamente un gran halago, y Jesús no merece menos que un gran halago de nuestra parte.
En el Evangelio de esta semana, Jesús está enfadado: entra en el templo, todo es un caos, hace un látigo de cordeles y empieza a volcar las mesas. Y le vemos enfadado, y es una gran lección. Es una gran lección por varias razones. Una es porque es importante que sepamos que hay un lugar para el enojo en nuestras vidas. Hay una tremenda injusticia en este mundo, y deberíamos enfadarnos por ello. A veces podemos caer en la trampa de pensar que no enfadarse es una virtud. A veces podemos caer en la trampa de creer en ciertas cosas que no provienen del Evangelio, como el dicho de que la paciencia es siempre una virtud necesaria. La paciencia no siempre es una virtud. Si estás en un restaurante y alguien le está dando una paliza a otra persona afuera, sentarte pacientemente y terminar tu cena no es una virtud. A veces la impaciencia es una virtud. Y esto es lo que vemos aquí con Jesús. Vemos la impaciencia, vemos el enfado, de una manera muy, muy virtuosa porque vio la injusticia. Y por eso es importante que nos demos cuenta de que el cristianismo no debería homogeneizarnos, no debería hacernos blandos y aburridos. Por el contrario, el cristianismo debería tornarnos en seres plenamente vivos. Debe hacernos plenamente humanos. Y para ser humanos, a veces la respuesta correcta es enfadarse.
Es una lectura fabulosa. Conlleva un gran mensaje. Mientras recorremos juntos el camino hacia la Pascua, creo que debemos plantearnos la siguiente interrogante: «¿Por qué estás enfadado hoy? ¿Por qué estás enfadado? ¿Es un enojo santo o pecaminoso?». Y si es un enfado santo, ¿qué te llama Dios a hacer con ello? y si no lo es, ¿qué te llama Dios a hacer con ello?