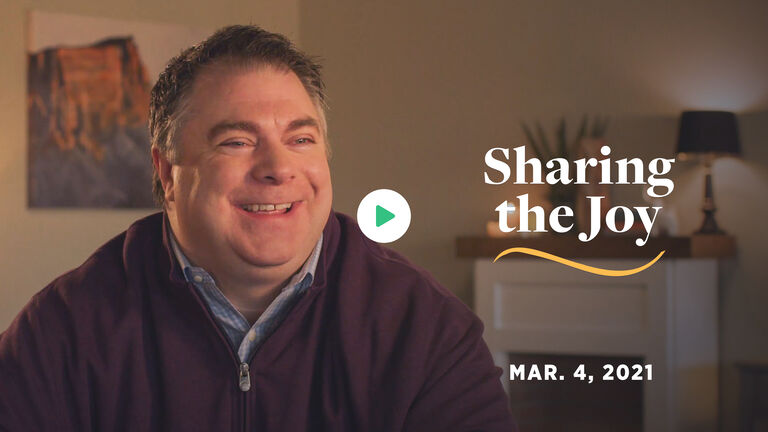 BEST LENT EVER is made possible each and every year by the generous support of Dynamic Catholic Ambassadors. It's a mission we love being a part of—and you're invited to become a part of it too!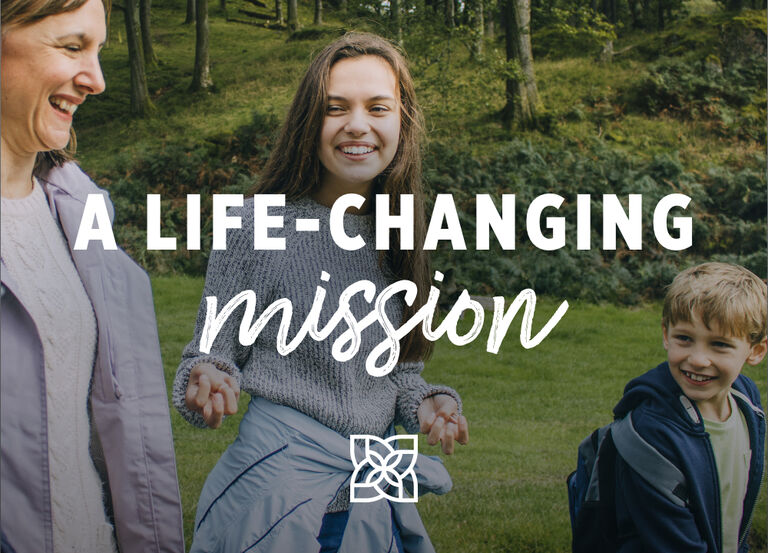 View Video Transcript:
English
|
Spanish
Transcript
March 4, 2021
Sharing the Joy
One of the things you'll notice very quickly when you establish a daily routine of prayer in your life is the joy. I had this experience where I was taught how to pray where I came into a unique relationship with God, and—that joy—it just sort of overwhelms, and it overflows, and you want to share it with other people. It was like all of the sudden you see things as they really are, and you realize, wow, that's what I've been looking for. Everything makes sense now. I want to share this with other people. I want to share this with as many other people as possible.
I knew prayer was an essential source of joy in my own life, and I wanted to share that with as many people as possible. And for many, many years I struggled with the question: okay, if you could only teach people one way to pray, how would you teach them? And what I wanted to do was to develop a method of prayer that would actually teach people how to pray as they use the method because I knew I couldn't go out there to millions and millions of people and sit down with them and explain to them how to pray. And so, I wanted to come up with a system, a process that if people engaged in the process, just engaging in the process would teach them how to pray. And that's how the Prayer Process came about.
I'm telling you, if 153 words can change your life, thes 153 words will change your life. It's seven pieces or seven parts of this prayer, each designed to lead you into a conversation with God about things like gratitude and awareness; the significant moments of the last 24 hours in your life; peace and the obstacles to peace and removing the obstacles to peace in your life; freedom; the things that stop you or preventing you from being the-best-version-of-yourself; other people and how we're called to pray for them or how they're challenging us or encouraging us; and then finally, the Prayer Process, the seventh movement in a sense of the Prayer Process is the Our Father. It's an incredibly simple process, but it has taught so many people how to pray. And that has brought them great joy and that brings me great joy. It's a life-changing joy. It's an astounding joy. And hopefully, in these days of reflection, something is stirring in your soul, and that joy is beginning to erupt in your soul. And you too will have a desire to share it with other people, as many people in your life as possible, because joy is contagious. A natural desire when we experience joy is to want to share it with other people.
There are so many ways you can share your joy. I want to invite you today to become a Dynamic Catholic Ambassador. What are the Ambassadors? They're the people who make these things happen. Almost a million people every day are tuning into this program. They're tuning into it because the Ambassadors make it possible. What do the Ambassadors do? They do three things. They pray for the mission of Dynamic Catholic. They talk about Dynamic Catholic in their circles of influence—they tell people, "Hey, are you doing BEST LENT EVER? You should do BEST LENT EVER. Have you seen this new thing at Dynamic Catholic?" They talk about this mission. They partner with us in doing that. The third thing that they do is they give. They give $10 a month to the mission so that we can continue to do this great work and share this great joy with as many people as possible. So click on the button below and become a Dynamic Catholic Ambassador today. We need to partner. We need collaboration. The world needs this great work, and we can't do it without you. So join us in this great mission today. Thank you.
Transcript (Español)
4 de marzo de 2021
Compartiendo el gozo
Una de las cosas que notarás muy pronto en tu vida cuando estableces una rutina diaria de oración es el gozo. Tuve esta experiencia cuando me enseñaron a rezar, y ahí fue donde llegué a tener una relación singular con Dios… y sientes un gozo que te inunda y se desborda y quieres compartirlo con otras personas. Es como si de repente vieras las cosas como realmente son, y te percatas: «¡Vaya! Esto es lo que has estado buscando. Todo tiene sentido ahora. Quiero compartirlo con otras personas. Quiero compartirlo con tantas personas como sea posible».
Sabía que la oración era una fuente esencial de gozo en mi vida y quería compartirlo con tantas personas como fuera posible. Y por muchos, muchos años lidié con la pregunta: bien, si pudieras enseñar una sola manera de rezar, ¿cómo la enseñarías? Lo que quería era desarrollar un método de oración que, al ser aplicado, sirviera para enseñarle a la gente cómo rezar, pues sabía que no podía sentarme con millones de personas y explicárselos. Así que quise idear un sistema, una serie de pasos que, si las personas lo siguieran, el simple hecho de participar e involucrarse en el proceso, les enseñaría cómo rezar. Y así es como surgió el proceso de la oración.
Te lo digo, si 153 palabras pueden cambiar tu vida, estas 153 palabras lo harán. Son en total siete elementos o siete pasos, cada uno diseñado para llevarte a tener una conversación con Dios sobre cosas como la gratitud y la consciencia; los momentos significativos de las últimas veinticuatro horas de tu vida; la paz, los obstáculos que encontramos en el camino hacia la paz y cómo suprimirlos; la libertad, lo que te impide ser la mejor versión de ti mismo; los demás y cómo estamos llamados a rezar por ellos, cómo nos alientan o nos retan; y luego finalmente, el séptimo elemento del proceso de oración es el padrenuestro. Es un proceso increíblemente simple pero ha enseñado a muchas, muchas personas a rezar. Les ha traído un gran gozo y eso me hace sentir muy feliz. Es un gozo que te cambia la vida, un gozo asombroso. Y ojalá, en estos días de reflexión, algo se esté gestando en tu alma y experimentes ese gozo desbordante. Y entonces, tú también tendrás el deseo de compartirlo con los demás, con tanta gente en tu vida como sea posible, porque el gozo es contagioso. Cuando sentimos gozo es natural desear compartirlo con otros.
Hay muchas maneras en que puedes compartir tu gozo. Quiero invitarte hoy a convertirte en Embajador de Dynamic Catholic. ¿Quiénes son los embajadores? Son las personas que hacen que estas cosas sucedan. Casi un millón de personas se conectan cada día a este programa. Lo pueden hacer porque los embajadores lo hacen posible. ¿Qué hacen los embajadores? Ellos hacen tres cosas. Rezan por la misión de Dynamic Catholic. Hablan de Dynamic Catholic en sus círculos de influencia, le dicen a la gente: —Oye, ¿estás haciendo La mejor Cuaresma? Deberías hacerla. ¿Has visto lo que Dynamic Catholic acaba de sacar? Ellos hablan de esta misión. Aúnan sus esfuerzos a los nuestros. Lo tercero que hacen es dar. Dan diez dólares al mes a la misión para que podamos continuar haciendo este gran trabajo y compartiendo este gran gozo con tanta gente como sea posible. Así que haz clic en la casilla de abajo y conviértete en un embajador de Dynamic Catholic hoy mismo. Necesitamos socios. Necesitamos colaboración. El mundo necesita de este gran trabajo y no podemos hacerlo sin ti. Así que acompáñanos hoy en esta gran misión. Gracias.