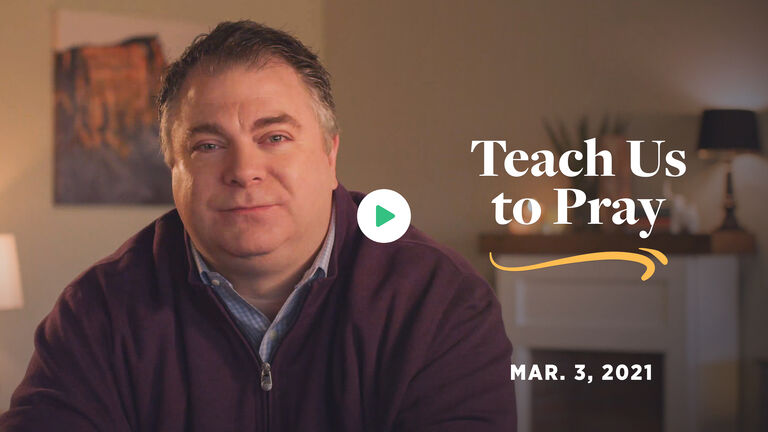 Do you ever feel like life is one big jigsaw puzzle? If so, grab a copy of I Heard God Laugh and begin to put all the pieces together!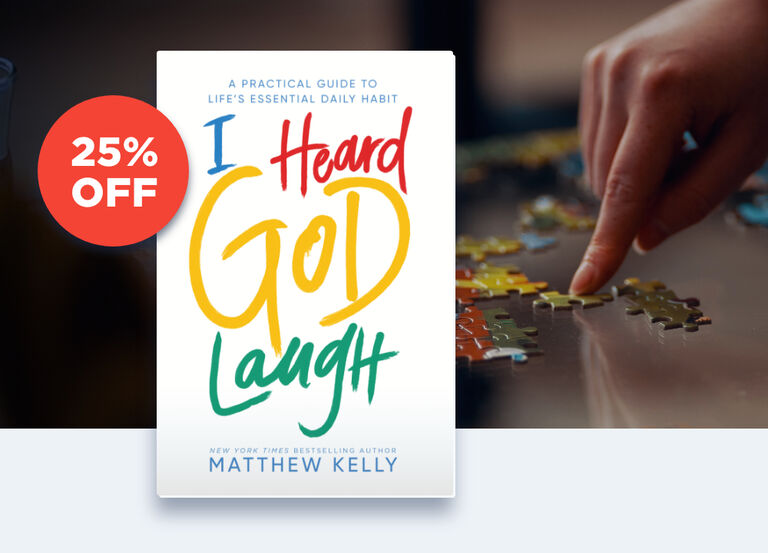 View Video Transcript:
English
|
Spanish
Transcript
March 3, 2021
Teach Us to Pray
If you could ask God for anything, knowing that he would give you whatever you asked him for, what would you ask him for? I asked my children this question last Sunday, and I got some very interesting answers. This is a question that we think of as maybe not possible. It's a question that we think of as distant or foreign, not likely to happen. But it does happen. It happens much more often than we think.
In the Bible, we read the story of Solomon. And Solomon becomes king, king of Israel, at the age of 12. What happened? Well, he began to experience two things that are among the most common emotions in our society today: he became anxious, and he became overwhelmed. He was anxious about being a good king. He was overwhelmed by the number of decisions he needed to make, overwhelmed by his responsibility. And God appeared to Solomon in a dream and put before him the question that I put before you: Ask me for anything, Solomon. And of course, Solomon asked for wisdom. He asked for wisdom because he realized that it was wisdom that would help him overcome his anxiety. It was wisdom that would help him overcome the feeling of being overwhelmed. Because his particular form of anxiety was around all the decisions he needed to make. His particular form of being overwhelmed was about all the responsibilities and decisions he needed to make. And so he asked God for wisdom, and God gave him wisdom. And in almost any society today, Solomon and wisdom are synonymous.
Another example we read about in the Scriptures is the disciples. Throughout the entire Gospels, the disciples only make one collective request of Jesus. They come to him asking for different things individually or as smaller groups, but together they came to him and said, "Teach us to pray." In many ways, their request was the same as Solomon's. They were seeking wisdom. They saw Jesus going away to a quiet place each night, each morning to pray. And they wanted to know what goes on. "When you go away to that quiet place, that solitary place, what happens? What do you do? Teach us to pray."
We all have needs, and we all have desires. Some of those needs and desires, we are aware of. And some of those needs and desires, we're unconscious of. We all have a need and a desire to pray. We all have a need and a desire to be taught how to pray. But very often, we're unconscious of that need and that desire. One of the things we're trying to bring into focus in our time together throughout this series is our need to pray and our desire to pray and our desire and our need to be taught how to pray, a need for wisdom is great. We see that at every turn in our lives. We're making choices every single day. We need wisdom to make good choices, to make healthy choices, to make wise choices. God's invitation to prayer is an invitation to participate in a well of wisdom that will serve you well every single day for the rest of your life.
Transcript (Español)
3 de marzo de 2021
Ensénanos a orar
Si pudieras pedirle a Dios lo que fuera, sabiendo que Él te daría lo que le pidieses, ¿qué le pedirías? El domingo pasado les hice esta pregunta a mis niños y obtuve algunas respuestas muy interesantes. Esta es una interrogante que no creemos posible. La creemos distante o ajena, improbable. Pero pasa, pasa mucho más de lo que pensamos.
En la Biblia, leemos la historia de Salomón. Y Salomón se convierte en rey, rey de Israel, a la edad de doce años. ¿Qué pasó? Bueno, empezó a experimentar dos de las emociones más comunes que abaten a nuestra sociedad hoy día: se puso ansioso y se abrumó. Estaba ansioso por ser un buen rey. Estaba agobiado por el número de decisiones que necesitaba tomar, abrumado por su responsabilidad. Y Dios se le apareció en sueños a Salomón y puso ante él la pregunta que yo voy a poner ante ti: «Pídeme lo que quieras y te lo daré». Y por supuesto, Salomón pidió sabiduría. Pidió sabiduría porque se dio cuenta de que era la sabiduría la que le ayudaría a superar su ansiedad. Era la sabiduría la que le ayudaría a superar su sentimiento de agobio. Porque su ansiedad giraba en torno a todas las decisiones que necesitaba tomar y su agobio giraba en torno a todas las responsabilidades que tenía. Así que pidió sabiduría, y Dios se la dio. Y hoy día, Salomón y sabiduría son sinónimos prácticamente en toda sociedad.
Otro ejemplo que leemos en las Escrituras son los discípulos. A través de todo el Evangelio los discípulos solo hacen una solicitud colectiva a Jesús. Ellos se dirigían a Él individualmente o bien en pequeños grupos para pedirle diferentes cosas, pero en este caso fueron a Él juntos y le dijeron: «Enséñanos a orar». De muchas maneras su petición fue la misma que la de Salomón. Estaban buscando sabiduría. Veían a Jesús que iba a un lugar tranquilo cada noche… cada mañana a rezar. Y querían saber qué pasaba. ­ «Cuando te vas a ese lugar sereno, a ese lugar solitario, ¿qué sucede?, ¿qué es lo que haces? Enséñanos a orar».
Todos tenemos necesidades, todos tenemos deseos. Tenemos consciencia de algunos de ellos, pero de otros no. Todos tenemos necesidad y deseo de rezar. Todos tenemos necesidad y deseo de que se nos enseñe a hacerlo. Pero muy frecuentemente somos inconscientes de esa necesidad y de ese deseo. A lo largo de esta serie, una de las cosas en las que estamos tratando de enfocarnos mientras hacemos juntos este recorrido, es en nuestra necesidad de rezar y en nuestro deseo de rezar, y en nuestro deseo y en nuestra necesidad de que se nos enseñe a rezar. Tenemos una enorme necesidad de sabiduría. Lo vemos en todo momento de nuestras vidas. Estamos tomando decisiones cada día. Necesitamos sabiduría para tomar buenas decisiones, decisiones saludables, decisiones sabias. La invitación de Dios a rezar es una invitación a participar de una fuente de sabiduría que te servirá cada día durante el resto de tu vida.