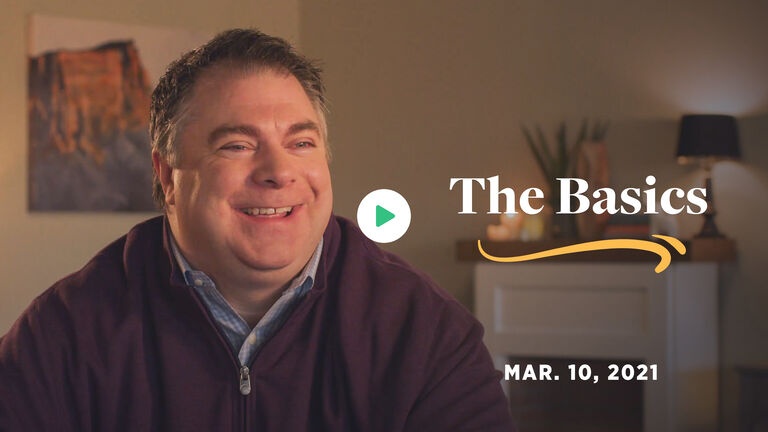 Convenient, portable Prayer Process cards are a fantastic way to evangelize. Empower others to begin a habit of daily prayer by sharing these with family and friends!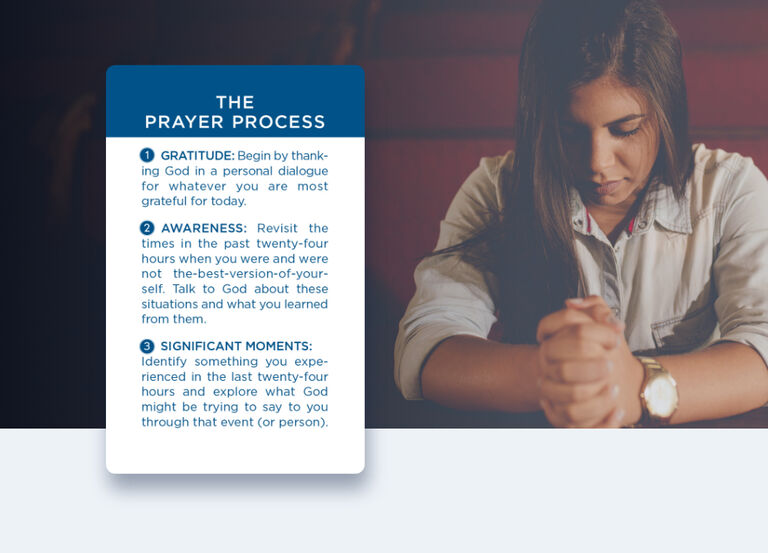 View Video Transcript:
English
|
Spanish
Transcript
March 10, 2021
The Basics
Every time you turn around, someone's being interviewed about the secrets of success. The reality is there are not really secrets to success. If you want to be successful at almost anything, the key to success, in almost anything, is mastering the basics. That's true for prayer, as well. We think about mastering the basics, of getting really, really good at the basics of prayer. What are the basics of prayer, you know? It's the what, when, where, how, why.
What—well, the what is prayer, and we've defined the what as 10 minutes a day as a place to start: going to the classroom in silence, sit with our god, spend 10 minutes a day in reflection and conversation with God. That's the what.
The when—we're recommending the morning, you know, or at least trying the morning and putting our days off to a great start: giving God a chance to clear our hearts and our minds, to give us clarity, direction, as we move into our days, to give us peace and to free us from anxiety.
So the what is prayer, 10 minutes a day. The when is in the morning.
The where—it can be any quiet place, but it needs to be a quiet place, you know? It requires a quiet place. We're reading the Scriptures, over and over again, Jesus went off to a lonely place to pray. Jesus went off to a quiet place to pray. Jesus went off to a place of solitude to pray. That's the kind of place we need, you know? Maybe all it takes is to close the door. Maybe you've got a quiet place in the comfy chair, and you close the door, and you have the silence and the solitude that you need in order for this experience to thrive.
The how is the Prayer Process. There are lots and lots of different ways to pray. But to develop the discipline of one way is very powerful in the beginning. And so let's ingrain this one way deep into your life. So the how is the Prayer Process.
And the why—the why is different for everyone. The why is different for everyone, you know? Henry David Thoreau, he wrote, "I went to the woods because I wanted to live life deliberately." It's a beautiful idea, and I think it's one of the reasons prayer is so important to me: because it helps me to live life with great intention. It helps me to live life deliberately. And I want to live deliberately. So I go to the woods of prayer because I want to live life deliberately. Get crystal clear about why prayer's important in your life. That will be a great touchstone for you on days when you simply don't feel like praying.
So they're the basics: what, when, where, how, why. People who are successful at anything—they master the basics. They master the basics. The temptation is to get all creative and go off and try fifty other different forms of prayer. There's a time for that, there's a season for that. This is not that time, this is not that season. This is the season to engrain a habit deep into your life with the discipline of one type of prayer. Master the basics, and as with anything else, you will find great success in your prayer life.
Transcript (Español)
10 de marzo de 2021
Lo básico
Cada vez que me doy la vuelta, están entrevistando a alguien sobre los secretos del éxito. La verdad es que no hay realmente secretos para el éxito. Si quieres tener éxito, casi siempre la clave es dominar lo básico. Lo mismo ocurre con la oración. Es crucial dominar lo fundamental, ser realmente buenos en los elementos básicos de la oración. ¿Cuáles son esos elementos? Son el cuándo, el dónde, el cómo y el porqué.
El qué…bueno, el qué constituye la oración, y lo hemos definido como diez minutos al día para empezar: vas a la clase en silencio, te sientas con nuestro Dios y pasas diariamente diez minutos en reflexión y conversación con Dios. Ese es el qué.
El cuándo… recomendamos la mañana, ya sabes, al menos intentarlo y comenzar el día a todo dar, dándole a Dios la oportunidad de esclarecer nuestros corazones y nuestras mentes, para darnos claridad y dirección al caminar por nuestros días, para darnos paz y liberarnos de la ansiedad.
Así que el qué es la oración, diez minutos al día. El cuándo es por la mañana.
El dónde… puede ser cualquier lugar tranquilo, pero tiene que ser un lugar tranquilo, ¿sabes? Se requiere un lugar apacible. Leemos en las Sagradas Escrituras que una y otra vez Jesús se va a un lugar solitario a orar. Se va a un lugar apartado a orar. Acude a un lugar solitario para orar. Ese es el tipo de lugar que necesitamos, ¿sabes? Tal vez todo lo que se necesita es cerrar la puerta. Tal vez ese lugar tranquilo es aquel sillón cómodo, y cierras la puerta y tienes el silencio y la soledad que necesitas para que esta experiencia prospere.
El cómo es el proceso de la oración. Hay muchísimas maneras de rezar. Pero desarrollar la disciplina de una manera determinada es muy poderoso al principio. Así que vamos a consolidar este proceso en tu vida. El cómo es el proceso de la oración.
Y el porqué…el porqué es diferente para todos. ¿Sabes? Henry David Thoreau, escribió: «Fui al bosque porque deseaba vivir la vida deliberadamente». Es una idea hermosa, y creo que es una de las razones por las que la oración es tan importante para mí: porque me ayuda a vivir la vida con gran intencionalidad. Me ayuda a vivir la vida deliberadamente y deseo vivir así. Así que voy al bosque de la oración porque quiero vivir la vida con un profundo sentido de propósito. Ten muy claro porqué la oración es importante en tu vida. Eso será una piedra angular en los días en que simplemente no tengas ganas de rezar.
Así que esto es lo básico: qué, cuándo, dónde, cómo y porqué. La gente exitosa domina lo básico, lo fundamental. La tentación es volverse creativo y probar otras cincuenta maneras distintas de rezar. Hay un tiempo para eso, hay una etapa para hacerlo. Este no es el momento, no estás en esa etapa. Este es el momento para arraigar un hábito en tu vida con la disciplina de una forma de oración. Domina lo básico, y como con cualquier otra cosa, experimentarás gran éxito en tu vida de oración.