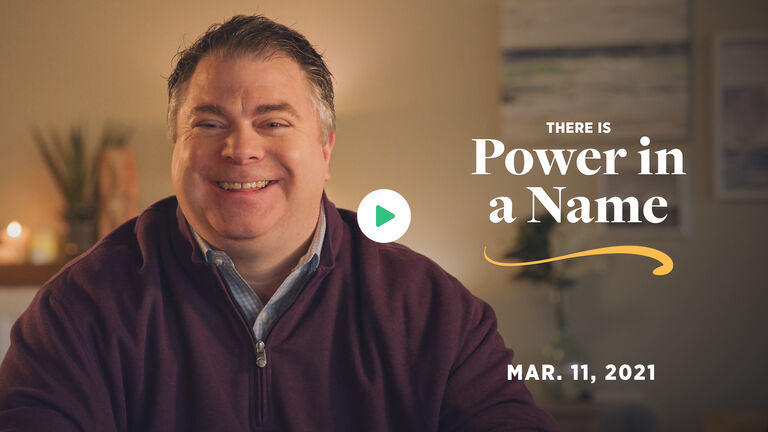 Practical wisdom is a perfect solution to frustrations of the head and the heart. Find a whole book-full of that practical wisdom in Matthew Kelly's I Heard God Laugh.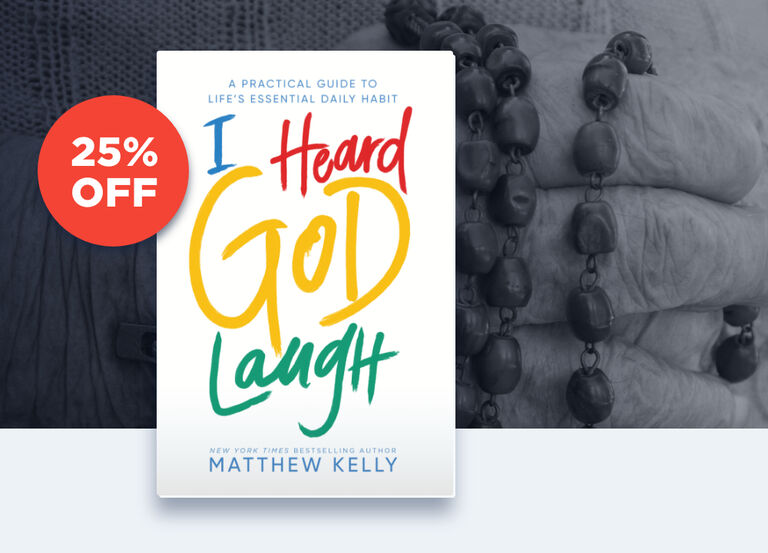 View Video Transcript:
English
|
Spanish
Transcript
March 11, 2021
There Is Power in a Name
One of the most practical lessons that anyone ever thought me around prayer surrounds the names we use when we talk to God. Names are powerful, and they very often represent a level of intimacy in a relationship. So one person could be known as Mr. Jones to some people, he could be known as Edward to other people, he could be known as Ted to other people, and he might be known as Teddy to people closest to him. Same person, many different names, each representing different levels of intimacy.
It's interesting, in my own life, sometimes people will call up the office, and they say, "I want to talk to Matt. We're really good friends. We know each other," or sometimes my wife will bump into somebody when she's out and about doing her thing and they'll say, "How's Matt doing? We knew him in college," or, "I knew him here," or, "I met him there." And it's interesting because nobody calls me Matt. In my personal life, nobody calls me Matt. When I was a child, if people called me Matt, my mother used to say, "When he was born, we gave him a name. His name is Matthew, and we gave him that name for a reason. And it means something to us, and we prefer you call him by the name we gave him." So names are very powerful in our lives.
Very often in the Scriptures, when God was giving someone a powerful mission, He gave them a new name. And so, over and over throughout the Scriptures, we discover the importance of name, the power of name. When Jesus encountered the demons, they couldn't even stand to hear his name. That's how powerful his name was. And so when we come to prayer, the name or the names we use to refer to God are very, very important, much more important to you than they are to God. God has a very clear sense of who He is. And what He wants is for you to find a name that helps you to connect with Him. So some people connect very powerfully with God as Father. Some people connect very powerfully with God as Son.
Father, Son, Jesus, Lord, Messiah—hundreds and hundreds of names throughout history we have used to refer to the very same one God. And in all of that, what I want to encourage you to do is to find the name that most helps you to connect with God, to find the name that most helps you to connect with God because that name will become a source of strength, a source of power, a source of intimacy, a source of comfort, a source of encouragement. Just that name will become all of those things and will very, very powerfully help you connect with God in conversation each day when you come to prayer.
Transcript (Español)
11 de marzo de 2021
El poder de un nombre
Una de las lecciones más prácticas que alguien me enseñó acerca de la oración gira en torno a los nombres que usamos cuando hablamos con Dios. Los nombres son poderosos, y muy a menudo representan el nivel de intimidad en una relación. Así, una persona puede ser conocida como el Sr. Jones por algunos y como Edward por otros. Otros la llaman Ted e incluso Teddy entre los más cercanos a él. La misma persona con muchos nombres distintos, cada uno representa diferentes niveles de intimidad. Es interesante, en mi propia vida, algunas veces la gente llama a la oficina y dice: ­–Quisiera hablar con Matt. Nos conocemos. Somos muy buenos amigos. O algunas veces mi esposa se topa con alguien en la calle mientras atiende sus asuntos y le dicen: –Hola, ¿cómo está Matt? Lo conocimos en el colegio o lo conocí aquí o lo conocí allá. Y es interesante porque nadie me llama Matt. En mi vida personal nadie me llama Matt. Cuando era niño, si la gente me llamaba Matt, mi madre solía decir: –Cuando él nació le pusimos un nombre. Su nombre es Matthew, y se lo pusimos por una razón. Y eso significa algo para nosotros y preferimos que lo llames por el nombre que le pusimos. Así es, los nombres tienen gran poder en nuestra vida.
Muy a menudo en las Escrituras, cuando Dios ha dado a las personas una misión poderosa les ha dado un nuevo nombre. Así, una y otra vez a lo largo de las Escrituras, descubrimos la importancia del nombre, del poder del nombre. Cuando Jesús se encontró con demonios estos ni siquiera soportaban el oír su nombre. Así de poderoso es su nombre. Por eso cuando nos disponemos a rezar, el nombre o los nombres que usamos para referirnos a Dios son muy, muy importantes, mucho más importantes para nosotros que para Dios. Dios tiene un claro sentido de quien es Él. Y lo que quiere para ti es que encuentres un nombre que te ayude a conectarte con Él. Así, hay personas que se conectan muy poderosamente con Dios Padre, algunas otras con Dios Hijo y otras con Dios Espíritu Santo.
A través de las Escrituras, a Dios se le dio todo tipo de nombres: Señor, Yavéh, Espíritu de Dios, Adonai, Padre, Hijo, Jesús, Mesías. Cientos y cientos de nombres hemos usado a través de la historia para referirnos al mismo, al único Dios. Y de todo esto, lo que quiero animarte a hacer es a encontrar el nombre que más te ayude a conectarte con Dios, a buscar el nombre que más te ayude a conectarte con Él porque ese nombre se convertirá en una fuente de fortaleza, una fuente de poder, una fuente de intimidad, una fuente de confort, una fuente de coraje y de ánimo. Todo eso de tan solo un nombre, Tan solo un nombre será de vital ayuda para conectarte en conversación con Dios en ese espacio de oración diaria.