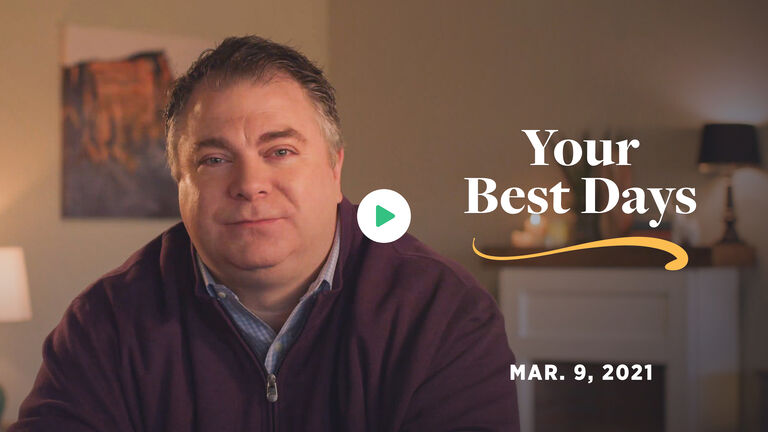 Dig the Well Before You Get Thirsty
Let Matthew Kelly's spiritual journey inspire yours with this interactive, day-by-day prayer journal!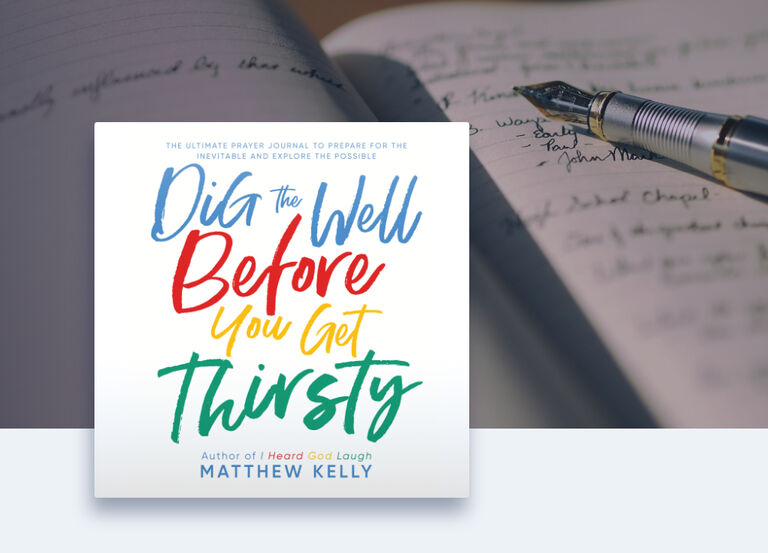 View Video Transcript:
English
|
Spanish
Transcript
March 9, 2021
Your Best Days
Life is a collection of days. How was your day yesterday? Or how were your days the past week or so? You look at the last month or the last six months. You realize most days were average. Some days were above average, and some days were below average. But what makes the difference? What is it that makes the difference between our best days and our worst days? Sometimes, it's things that are completely out of our control. But sometimes, it's things that are within our control. The bulk of most people's days are average days. Moving those average days to above-average days is usually very much within our control.
Over time, I've realized that my best days begin with prayer. 30 years after I began this habit in my life, there are still days when I get lazy. I procrastinate. I get distracted. I oversleep. I put it off and always pay the price. I always pay the price. And sometimes, the price is great. And sometimes, the price is not that great. But there's always a price because my best days begin with prayer. I have enough evidence. I have plenty of proof at this point that my best days begin with prayer. And still, there's resistance. Still, this is a struggle sometimes to wrestle myself to live in that wisdom that has been shared with me.
How do your best days begin? And if you try starting each day with prayer, and you make some notes about how those days go differently, perhaps you will become convinced, as I have become convinced, that our best days begin with prayer. This is the gift of awareness. That's one of the great spiritual gifts. It's the gift of knowing what's happening within us, knowing what's happening around us, sensing what's happening in other people, as we spend time with them, sensing what's happening in their lives. It's this great spiritual awareness. As we start our days with prayer, make a couple of notes about how do we feel throughout the day. Do we feel more peaceful? Do we feel less anxious? This is how we grow this awareness of how prayer is transforming us little by little. It will transform us whether we're aware of it or not. But one of the great gifts God wants to give us is this awareness so that we can share this awareness with other people so that, on those days, where maybe we don't feel like praying, it's the awareness that, hey, this is a life-changing habit. This makes all the difference in my days. If I do this, my day will go smoother. I'll have more peace. I'll have less anxiety. It's when we have those doubts. It's when we have that resistance that this awareness becomes a very powerful ally in our lives.
And so, I simply want to encourage you. I've been challenging you to spend some time each day in prayer. Now, I want to encourage you to begin your day with prayer. I realize not everyone's a morning person. Whether you're a morning person or not, I really encourage you. Just give it a try. Just give it a try. What do you have to lose? Give it a try for a few days, for a few weeks. Start your day with prayer, and see how it begins to transform you. Where's it leading us to? It's leading us to one of those great moments in our lives. Where's this all leading? It's leading us to one of those great moments in life. It's the moment when you realize, once and for all, finally, that a life with prayer is better than a life without prayer.
Transcript (Español)
9 de marzo de 2021
Tus mejores días
La vida es una colección de días. ¿Cómo fue tu día de ayer? o ¿cómo fueron tus días la semana pasada? Miras el último mes o los últimos seis meses y te das cuenta de que la mayoría de los días fueron días promedio. Algunos días por encima del promedio y otros por debajo del promedio. ¿Pero, qué hizo la diferencia? ¿Qué es lo que hace la diferencia entre nuestros mejores días y los peores? Algunas veces, es algo que está completamente fuera de nuestro alcance, pero algunas veces son cosas que están dentro de nuestro control. La mayoría de los días son promedio, sin embargo, el llevarlos a un nivel más alto está en gran medida dentro de nuestro control.
Con el paso del tiempo me he dado cuenta de que mis mejores días empiezan con oración. Treinta años después de que inicié este hábito en mi vida todavía hay días en que me da pereza. Lo dejo para después. Me distraigo. Me levanto tarde. Lo pospongo y siempre pago el precio. Siempre me toca pagar el precio. Algunas veces el precio es alto y otras no lo es tanto, pero siempre se paga un precio porque los mejores días son los que empiezan con oración. Tengo suficiente evidencia. En este punto, tengo cantidad de pruebas de que mis mejores días empiezan con oración. Y todavía me resisto. Todavía en ocasiones tengo que luchar conmigo mismo para vivir en esa sabiduría que me ha sido compartida.
¿Cómo empiezan tus mejores días? Si intentas empezar cada día en oración y tomas nota de cómo esos días transcurren de manera diferente, quizá te convenzas, como me he convencido yo, de que nuestros mejores días comienzan con oración. Este es el regalo de la consciencia. Es uno de los grandes regalos espirituales. Es el regalo de saber lo que está pasando en nosotros, a nuestro alrededor y en otras personas, cuando al pasar tiempo con ellas percibimos lo que acontece en sus vidas. Es esta maravillosa consciencia espiritual. Al empezar el día en oración toma nota de cómo te sientes a lo largo del día. ¿Te sientes con más paz? ¿Te sientes menos ansioso? Así es como cada vez nos hacemos más conscientes de como la oración nos va transformando poco a poco. La oración nos transformará, estemos conscientes de ello o no. Pero uno de los grandes regalos que Dios quiere darnos es esta consciencia para que podamos compartirla con otros y así, en aquellos días cuando quizá no tenemos deseos de rezar, seamos conscientes de que es un hábito que cambia la vida. Hace toda la diferencia en mis días. Si lo hago, mi día es más tranquilo, tengo más paz, tengo menos ansiedad. Es cuando dudamos y resistimos, que esa consciencia se vuelve un poderoso aliado en nuestras vidas.
Por eso, simplemente quiero alentarte. Te he estado desafiando a pasar cada día un tiempo en oración. Ahora, quiero alentarte a empezar tu día en oración. Sé que no todos son mañaneros. Seas tú una persona mañanera o no, en realidad quiero animarte. Solamente inténtalo. Solamente haz eso: ¿Qué tienes que perder? Inténtalo por unos días, por unas semanas. Empieza tu día en oración, y mira como eso empieza a transformarte. ¿Hacia dónde nos lleva esto? Hacia uno de esos grandiosos momentos en la vida. Es el momento cuando te das cuenta, de una vez por todas y finalmente que una vida en oración es mejor que una vida carente de ella.