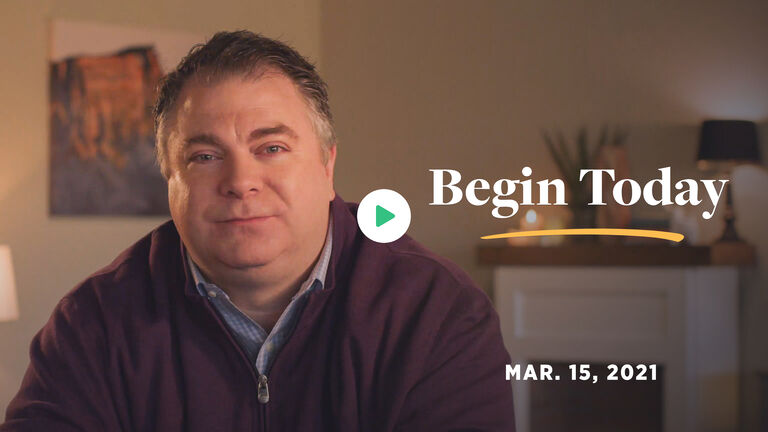 The perfect read for anyone interested in regaining the courage to pursue happiness again. Check out Resisting Happiness!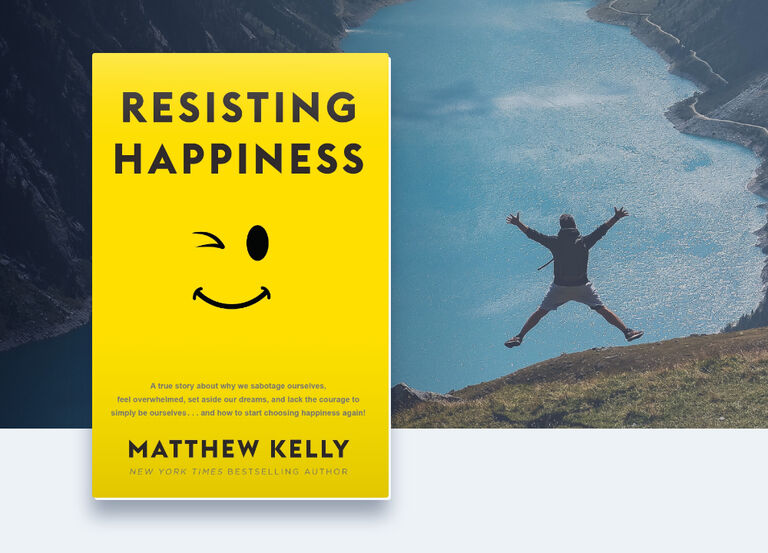 View Video Transcript:
English
|
Spanish
Transcript
March 15, 2021
Begin Today
Have you started yet? Have you started yet? We've been talking about this for two or three weeks now, making this journey together. Have you started dedicating your time each day in your life just to sit down in the classroom in silence and connect with the-best-version-of-yourself and connect with your God? The hardest part of anything is getting started. The space shuttle uses 96% of its fuel during takeoff. And so many of the things in our lives that we feel called to do, that we know are good for us, that we know would create powerful healthy habits, they're difficult to get started. But once we get started, we find that momentum. Once we're in motion, we feed off that momentum, and it's easy to move forward. Get started.
If you haven't already, get set a time today. Set a time tomorrow. Set a time for the rest of the week and make it sacred. Make it something sacred in your calendar that you do every day no matter what. You don't schedule over it. You don't put it off. Better than putting it off is to pull it forward. If you usually pray at 7:30 in the morning, and you know that you've got something at 7:30 tomorrow morning, don't put it off. Bring it forward. Do it at 7 o'clock. Do it at 6:30. As you become more experienced in the spiritual life, I think most people come to the realization that a little bit less sleep is better than missing out on their prayer because prayer has such a powerful impact on our days, on our relationships, on our lives. But getting started is difficult.
I want you to know that getting started is difficult so that when you come to experience that difficulty, you realize, okay, it's not just me; everybody experiences this. It's like crossing the room to ask a woman out on a date. There's resistance there, right? Should I do it? Shouldn't I do it? You want to do it. But you don't do it. It's that same thing. It's getting started. It's getting started. In my book Resisting Happiness, I talk about that. That experience is called resistance. It's called resistance. In the opening of the book I write, "The alarm goes off. It's time to get out of bed. This is your first decision of the day. Will you get out of bed or hit the snooze button? You press the snooze button and roll over. What just happened? No big deal, right? Wrong. You just lost the first battle of the day. Resistance just kicked your butt. Resistance has broken your will before you've even gotten out of bed. You'll most likely be a slave to it for the rest of the day. What is resistance? It's that sluggish feeling of not wanting to do something that you know is good for you. It's the inclination to do something that you unabashedly know is not good for you. And it's everything in between. It's the desire and tendency to delay something you should be doing right now." That's resistance. It's the main obstacle between you and a vibrant spiritual life. It's the main obstacle between you and the life-changing habit of daily prayer.
Transcript (Español)
15 de marzo de 2021
Empieza hoy
¿Ya empezaste? ¿Lo has hecho? Hemos estado hablando sobre esto por dos o tres semanas mientras recorremos juntos este camino. ¿Ya empezaste a dedicar cada día un tiempo exclusivo para sentarte en la clase del silencio y conectarte con la mejor versión de ti mismo y con tu Dios? La parte más difícil de cualquier cosa es empezar. La nave espacial usa el 96% de su combustible durante el despegue. Y muchas de las cosas a las que nos sentimos llamados a hacer en nuestras vidas, que sabemos que son buenas para nosotros, que sabemos podrían crear hábitos saludables, son difíciles de empezar. Pero una vemos que iniciamos, encontramos ese impulso. Una vez que estamos en movimiento, alimentamos ese impulso y es fácil avanzar. Empieza.
Si no lo has hecho todavía, fija una hora hoy. Fija una hora mañana. Fija una hora para el resto de la semana y hazla sagrada. Dale un lugar sagrado en tu agenda para que lo hagas cada día sin importar lo que pase. Respeta ese tiempo, no programes nada más a esa hora. No lo pospongas. Es mejor adelantarlo que posponerlo. Si usualmente rezas a las siete y media de la mañana y tienes algo a esa hora, no lo pospongas, hazlo primero. Hazlo a las siete en punto. Hazlo a las seis y media. Mientras ganas experiencia en la vida espiritual, creo que la mayoría de la gente llega a darse cuenta de que es mejor dormir un poco menos que prescindir de ese espacio de oración pues tiene un grandísimo impacto en nuestros días, en nuestras relaciones, en nuestras vidas. Pero empezar es difícil.
Quiero que sepas que empezar es difícil, así que cuando llegues a experimentar esa dificultad, te des cuentas de que no estás solo. Todos pasamos por eso. Es como cruzar el salón para invitar a una mujer a salir. Hay resistencia ahí, ¿verdad? ¿Debo hacerlo? ¿O mejor no? Quieres hacerlo pero no lo haces. Es lo mismo. Se trata de empezar. Se trata de dar ese primer paso. En mi libro Resistiéndose a la felicidad, hablo acerca de eso. Esa experiencia se llama resistencia. Al inicio del libro escribo: «La alarma dejó de sonar, es hora de salir de la cama. Esta es tu primera decisión del día. ¿Saldrás de la cama o silenciarás el reloj despertador? Pulsas el botón para posponer la alarma y te das la vuelta. ¿Qué sucedió? Nada grave, ¿verdad? Equivocado. Acabas de perder la primera batalla de tu día. La resistencia te ha pateado el trasero. La resistencia ha derrotado tu voluntad incluso antes de que salieras de la cama. Lo más probable es que seas esclavo de ello por el resto del día. ¿Qué es la resistencia? Es ese sentimiento de flojera, de no querer hacer algo que sabes que es bueno para ti. Es la inclinación por hacer algo que a todas luces sabes que no es bueno para ti. Y todo lo que está en medio. Es el deseo y la tendencia a retrasar algo que debes estar haciendo ahora mismo. Eso es la resistencia. Es el mayor obstáculo entre ti y una vida espiritual vibrante. Es el mayor obstáculo entre ti y el hábito diario de la oración, el hábito que cambia la vida.